Should I Pay Cash For Solar Or Take Out A Loan?
Going solar costs $3,000 and over. So, taking a loan is convenient if you can't pay the full price upfront or don't want to tie up your cash and miss out on its alternative uses. However, paying cash makes more sense if the solar loan does not bring savings until it is paid off completely.
Many people wrongly assume that whether to pay cash or take a loan rests entirely on whether or not they can afford to cover the cost of solar.
But it is deeper than that.
There are situations where paying cash for solar doesn't make sense, even if you can afford to pay the full price upfront.
In this article, we'll tell you:
When it makes sense to pay cash for solar
When a solar loan is a good idea
The best solar loans for homeowners
How long it'll take solar panels to pay for themselves
Let's roll!
Should I pay cash or finance solar?
Paying cash or financing solar should depend on whether your system can pay for itself or not. If solar financing will not give you savings until the loan is fully paid off, paying cash makes more sense. But if you'll start getting savings immediately, solar financing is perfectly fine.
When it makes sense to pay cash for solar
It makes sense to pay cash for solar if you can easily afford it. Paying cash allows you to enjoy your solar savings immediately. It's also better to pay in cash if the monthly repayment for your solar loan is higher than the solar savings. Ideally, your repayments should match or be lower than your monthly savings.
There are even many advantages to paying cash for solar. Let's look at these advantages (as well as any disadvantages).
Pros of paying cash for solar
It simplifies and quickens the process of going solar. You won't worry about a solar loan application, approval, or repayments.
Paying cash for solar is cheaper than using a loan in the long run
Your system will pay for itself much faster, typically in 3 to 5 years.
The cons of paying cash
Going solar involves substantial expenses that may not be readily available.
Is a solar loan a good idea?
A solar loan is a good idea when you don't have enough money to cover the upfront solar costs. But the monthly repayments should not exceed the expected solar savings; else, it'll be a long-term burden.
So generally, you should pay the loan provider the amount you'd have spent on electricity bills. In that way, the solar savings finance the solar loan.
If the repayments always exceed the savings, the solar loan is not a good idea because you'll not see any savings until the loan is paid off completely.
The financing option you choose should bring savings soon rather than later.
When deciding whether to take out a solar loan or pay cash, consider the solar savings and the loan payments.
The solar savings. You save the money you'd have paid your electricity provider. And if your solar system produces more electricity than you use, you can export the surplus to the grid for a fee (feed-in tariff). You add the feed-in tariff to your total solar savings.
The loan payments. The single most important element in loan payments is the cost of the loan. This usually comes as an interest rate or a fixed fee. Overall, the cost of a solar loan is usually lower than standard loans.
Pros of using a solar loan
Zero upfront payment. You will get the funds to go solar from the loan provider.
Benefit from inflation. As the loan proceeds, you can get to pay for the loan with devalued AUD
Cons of using a solar loan
More expensive. Using a loan is more expensive in the long run because of the cost of the loan.
Takes longer. Applying for a solar loan, getting approval, and receiving the funds can take some time, depending on the loan provider.
Loan repayment worries. You'll have to make sure you don't delay or miss making a payment so that you do not incur extra fees.
With that, let's explore the best solar financing options in Australia.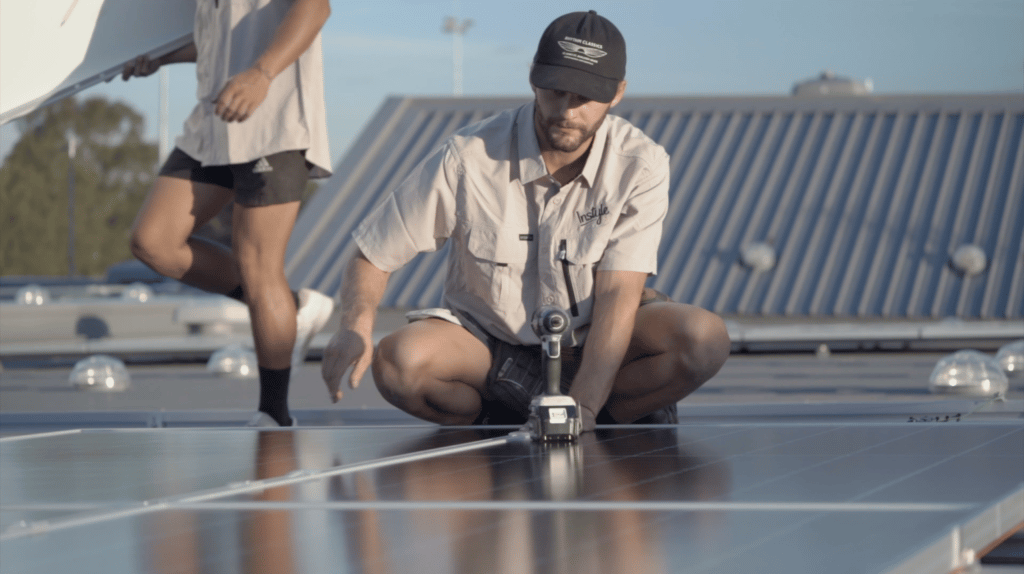 Best solar loans for homeowners
For Aussies, the best solar loans include Plenti Green Loans, Humm Buy Now Pay Later Loans and Brighte Loans. These loans offer substantial amounts that cover solar expenses with flexible repayment plans. Importantly, the loan costs are low so that you're not burdened with more debt than you should.
Let's explore these!
1. Plenti Green Loans
The Plenti green loans are unsecured loans offered by Plenti to persons seeking to purchase clean energy products like solar panels, batteries, and hot water systems. With Plenti green loans, you can get from $5,000 to $50,000, to be paid back between 1 and 7 years.
Plenti is a highly-rated consumer lender that has given out over 17,000 solar and home battery loans to Australian homeowners.
The green loans cover environmentally friendly purchases like:
Solar panels
Batteries
Solar pool heating systems
Energy-efficient lighting and air conditioning
Hybrid low emission cars
One thing that makes Plenti green loans one of the best solar loans for homeowners is that they're cheaper than other solar loan options. The interest rates start from 6.99%, while the national average is about 7.9%.
Also, the loan process is straightforward.
On the green loans page of the Plenti website, click the red "get your rate" button. This allows you to check your eligibility and get an estimate of how much you'll qualify for, which only takes a minute.
After getting your rate, you can proceed with the application by simply entering your details into the appropriate fields. It'll take less than 10 minutes. If your loan application is successful, you'll receive an email to accept the loan contract.
After this, Plenti will transfer the funds to your account within 2 days.
However, to qualify for Plenti Green Loan, you must:
Be at least 21 years old
Be a citizen or permanent Australian resident
Have a regular source of income, and earn at least $20,000 per year
Have a good credit history
2. Humm Buy Now Pay Later (BNPL) Loans
The Humm BNPL Loans are unsecured, interest-free personal loans offered at the point of purchase. You purchase at that time and pay for it later – usually within 60 months.
Besides solar power systems, you can use Humm BNPL to pay bills, purchase jewellery and homeware.
Humm offers two financing options depending on the size of your purchase.
Little Things financing. You can get up to $2,000 to be paid back in 5 fortnightly or 10 weekly payments.
Big Things financing. You can get up to $30,000 to be paid back in 6 – 60 months. An establishment fee of $35 – $90 applies on the first purchase, and a $22 fee applies for subsequent purchases.
The loan cost comes in the form of a fixed monthly fee. For either financing option, the fixed monthly fee is $8, and there is a $6 fee for delayed payment.
Applying for a loan is also easy. Simply download the Humm app and follow the easy steps.
To be eligible for Humm BNPL Loans, you must:
Be a citizen or permanent Australian resident
Be at least 18 years of age
Own a valid debit card
Never have declared bankruptcy or insolvency.
3. Brighte Loans
Brighte is an Australian lender with a mission to make every home sustainable. They offer both green loans and interest-free BNPL loans.
You can use Brighte Green Loan for energy-efficient products like solar panels, batteries, solar hot water, and solar heating and cooling.
You can borrow up to $30,000 to repay in 2 to 7 years. The loan comes with a meagre interest rate of 5.89%. However, a $299 establishment fee is added to the loan amount. There's also a $1.50 weekly account keeping fee.
You can use Brighte BNPL loans for energy-efficient products and home improvement projects like kitchen and bathroom renovations and landscaping.
You can get $1,000 to $30,000 with fortnightly payments of 6 to 60 months. The loan is interest-free but comes with a $1.50/ week account keeping fee.
For either Brighte Loans, a $4.99 fee applies for late payment.
Applying for Brighte Loans is also very easy. On the loan page, click the "Enquire now" button and supply the relevant information from the loan page. You'll get approval information within 1 to 3 days.
However, to get the Brighte Loans, you must:
Be at least 18 years old and an Australian citizen or resident
Have an Australian passport, drivers' license, or Medicare card
Own a home
Be employed, self-employed, a self-funded retiree, or be receiving the Government Age Pension.
How long will it take solar panels to pay for themselves?
Because Australia enjoys many sunny days, it can take as little as 3 years for your solar system to pay for itself. However, depending on your location, the size of your system, and some other factors, solar panel payback can take up to 10 years.
Your solar panels pay for themselves when the cumulative savings are greater than the total cost. To determine when your system will break even and pay for itself, understanding how to calculate solar panel payback time is important.
Solar payback is calculated by dividing the system's net cost by the net annual benefits.
Where:
Net cost of the system = cost of the system – solar incentives
Net annual benefits = annual power bill savings + annual Feed-in tariffs
Below is an example.
Consider a system that costs $12,000 to install and saves you $200 every month. The payback period is 5 years. This is calculated: $12,000/ ($200 x 12).
Different factors affect the solar payback period.
For example:
The bigger the cost of your system, the longer it'll take the system to pay itself.
Solar incentives bring down the cost of the system, so the more incentives you get, the quicker your payback time is.
The higher your power bills savings, the quicker the payback. Thus, the higher your pre-solar energy consumption, the better.
The more money you get from exporting electricity (feed-in tariff), the quicker the payback. Thus, the more power your system produces, the better. This also means that the sunnier your location, the better.
There is no scarcity of peak sun hours in Australia. So your solar electricity production will be high.
Secondly, Australia has high electricity tariffs. So, the power bill savings will be high.
Thirdly, Australia has a lot of solar incentives.
A study by the Australian Energy Council found that 3KW, 4KW and 5KW solar systems in Adelaide, Brisbane, Canberra, Sydney, and Perth have a payback of 5 years or less. At the same time, Darwin was the only capital with a high payback of 10 years or more.
Solar loans FAQ
Will a solar loan affect my credit score?
Generally, your credit score is not affected when you check your eligibility to know how much you qualify for.
However, your credit score will be affected when you go through the application. The loan provider will submit a loan enquiry and request your credit file in considering whether to approve your solar loan. This is usually a "hard" inquiry that may affect your credit score.
Also, just like it is with any other loan, failure to meet repayment requirements will affect your credit score. That is, if you miss a payment, your credit score will be negatively affected. And this will affect your ability to secure loans in the future.
Are solar loans secured?
Solar loans can be secured or unsecured. However, the definition here is different from personal loans, where secured loans require collateral and unsecured loans do not.
Instead, both types of solar loans require collateral. The difference is the collateral required. A secured solar loan uses your house as collateral, while an unsecured solar loan uses solar panels as collateral.
Generally, secured solar loans come with lower rates. However, because unsecured solar loans are more popular with customers, most solar loans are unsecured.
What happens when you pay off your solar panel loan?
After paying off your solar panel loan, you can really begin enjoying your power bill savings. This money that was going into paying off the loan becomes available for alternative use.
You'll essentially be getting electricity for free. You can also export surplus electricity to the grid and earn extra money.
What's a good solar loan rate?
Generally, secured solar loans come with rates starting as low as 1.75% to 4%, while unsecured solar loans come with rates as low as 4% to 10.5%. A good solar rate starts at about 2% if secured and 7% if unsecured.
The Plenti Green Loan and Brighte Green Loan rates start at 6.99% and 5.89%, respectively. They are outstanding unsecured solar loans.
Conclusion
Installing a solar power system is a relatively big project that involves a significant cash outlay. Thus, a big question when deciding to go solar is which route to take – paying cash or securing loan financing.
Interestingly, no route is intrinsically better than the other. Rather, it makes more sense to pay for cash in some situations, and in different cases, it makes more sense to take up solar financing.
When the loan financing does not bring you net savings until after you pay off the loan, it makes more sense to pay cash than to take up the loan. However, a solar loan is a good idea when it brings net savings immediately.
When choosing solar loans, you should check that the loan amount is substantial, with a flexible loan term and low loan cost. Using these criteria, some of the best solar loans for Aussie homeowners include Plenti Green Loans, Humm Buy Now Pay Later Loans and Brighte Loans.
Want to learn more? Contact us to speak with an expert.
Next Steps…
Interested in solar? By clicking below you can use our smart solar calculator to find out just how much you could save with solar, what rebate you are eligible for, and the impact you will have on the environment.
Don't wait until next quarter's bloated bill, and get started today!
Click here to calculate your solar savings!
Join over 20,000 homeowners who have made the switch with Instyle Solar, or the 1000+ positive reviewers who have been more than happy with their solar install.
Otherwise, you can always contact us on 1300 133 556, or email if you prefer at sales@instylesolar.com.au.