Why Queensland is Australia's rooftop solar leader
Published: 24 April 2020
Turns out Queensland has earned its title: the Sunshine State.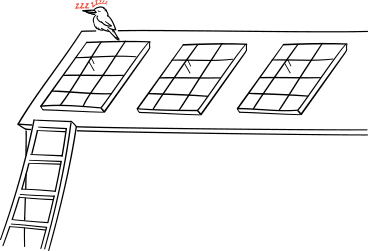 New research from the Clean Energy Council reveals Queensland is Australia's rooftop solar leader, with five out of Australia's top ten solar postcodes located in the state.
Queensland is Australia's rooftop solar leader
The cities of Bundaberg (#1), Hervey Bay (#3), Caloundra (#4) and Toowoomba (#5) have rounded out the top five suburbs, while Mackay has come in at 10th place – with a combined total of 57,698 installations and 241,131 kW of clean energy capacity.
So why are Queenslander's switching to solar in record numbers?
With high levels of home ownership and an abundance of sunshine, Queensland's got all the right things going for it. Combined with the Government's mandate to support 1000 MW of new renewable generation by 2025 and it is no surprise that people are inquiring and installing solar panels in record numbers.
In fact, last year alone, there was 73,726 new solar installations in Queensland, bringing our state's total to a significant 675,317 installations. That equates to approximately one in three households currently reaping the benefits of solar energy.
While there is a percentage of people who do install solar for environmental reasons, home-owners committed to reducing the cost of living are leading the surge in uptake across the state.
On average, solar can save your family thousands of dollars each year. For more households, you can install a system at 'zero cost' – that is the savings on your power bill outweigh the cost of installing your solar system. This makes solar an affordable, long-term option for Queensland families and homes.
Now, even more, with increasing numbers of us self-isolating, spending more time or working from home, people are re-evaluating their finances, budgets and home essentials and researching options to save money.
For more information visit our How Solar Works page.
Next Steps…
Interested in solar? By clicking below you can use our smart solar calculator to find out just how much you could save with solar, what rebate you are eligible for, and the impact you will have on the environment.
Don't wait until next quarter's bloated bill, and get started today!
Click here to calculate your solar savings!
Join over 20,000 homeowners who have made the switch with Instyle Solar, or the 1000+ positive reviewers who have been more than happy with their solar install.
Otherwise, you can always contact us on 1300 133 556, or email if you prefer at sales@instylesolar.com.au.

Interested in Solar?
Find out if you're eligible for solar and how much you could save by switching.
Start Now
Get in touch with one of our experts
Contact Us
Keep up with the latest solar news