Why have solar panel prices increased in 2021?
Published: 5 November 2021
This blog explores everything to do with solar pricing and why solar energy has faced a tough time in 2021.
Australia is entering into uncharted waters with solar panel shortages and up to 30% price hikes on solar panels in some states.
The COVID19 pandemic, global shipping crisis, solar material shortage, and China's energy crunch have contributed to the astronomical increase of Australian solar prices in 2021.
And despite the increase in solar prices, Australia is witnessing a boom in solar installations across the country.
The increase in solar use is due to deliberate government efforts to incentivise solar and the growing interest from Aussies in cutting their electricity costs.
This article will explore everything to do with solar pricing and why solar energy has faced a tough time in 2021.
How much do solar systems cost?
A solar system consisting of PV panels, DC to AC inverter, and a rack system costs anything between $2500 for a 1.5 kW system to over $8000 for a 10kW system after government subsidies.
Of course, government subsidies also depend on system size, installation date, and zone.
Look at the approximate cost of premium solar systems in Australia as of November 2021.
| | | | | | | |
| --- | --- | --- | --- | --- | --- | --- |
| State | 3kW($) | 4kW($) | 5kW($) | 6kW($) | 7kW($) | 10kW($) |
| Adelaide | 4550 | 5440 | 5990 | 6620 | 7860 | 10050 |
| Brisbane | 5120 | 5950 | 6560 | 7100 | 8320 | 11340 |
| Canberra | 4710 | 5190 | 6060 | 6740 | 7850 | 9940 |
| Darwin | 6400 | 7790 | 9470 | 10830 | 12520 | 18900 |
| Horbat | 5660 | 6530 | 7420 | 7930 | 8920 | 11970 |
| Melbourne | 5030 | 5490 | 6070 | 6210 | 7320 | 9980 |
| Sydney | 4920 | 5510 | 6440 | 7310 | 8150 | 10780 |
| Perth | 3820 | 4320 | 5000 | 5590 | 6650 | 10120 |
| Average | 5030 | 5780 | 6630 | 7290 | 8450 | 11640 |
The figures represented here are approximate values bound to change depending on different factors.
These prices are 20-30% higher than average solar prices due to higher quality materials, extended warranties and better technical capabilities.
What influences Australian solar prices?
The average per watt price of Australian solar has always fluctuated over the years.
Australian solar prices in 2021 were affected by supply challenges, raw material costs increase, global shipping challenges, COVID19 and reducing government incentives.
Here is an infographic showing the per watt price from 2019 to 2021.
Please note that this is the out of pocket cost paid by Australians for every watt of solar power they generate from their solar systems.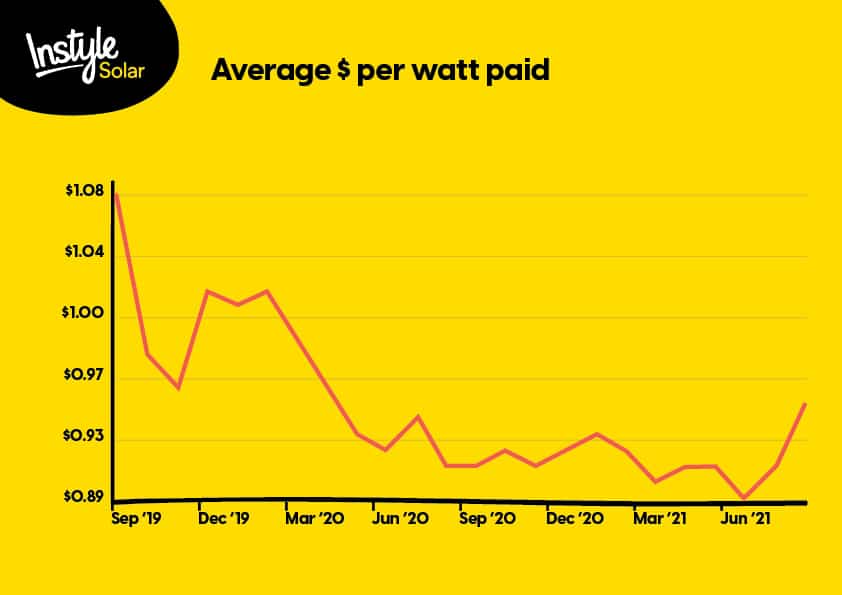 As seen in the graph, there has been a steady decline in the per watt costs of generating solar power, primarily due to government incentives.
2021 has seen a sharp spike due to global shortages of raw materials and a logistical nightmare from solar panel suppliers, especially in China.
Here are the top factors that affected solar energy prices in 2021.
Supply challenges
The residential, commercial and utility solar prices have risen in recent months with the developments across the sea in China.
China, which is Australia's biggest solar system supplier, is grappling with a crippling energy crisis that has seen it divert solar products meant for export to its local market.
The reduced supply from China means that large and small-scale Australian solar product suppliers are quickly running out of stock, forcing them to hike prices.
This is the first phenomenon since 2014 when solar products in all sectors (residential, commercial, utility) have risen concurrently.
Emerging reports now conclude that China has introduced a spot rate which means pricing of PV panels is done during pick up, not when ordering.
As a solar customer, it will be wise to base your solar budget on the actual prices of the day since it keeps shifting depending on the global demand.

Cost of raw materials
International silicon prices, the primary raw material in solar panels, have hit their highest levels ever recorded in history.
China, the world's largest silicon manufacturer, has drastically reduced the production quantity of this essential metal due to the energy crisis currently ravaging the country.
The global silicon shortage means that the average Australian will have to dig deeper to afford solar. There is hope that solar prices will stabilise in the future, but the prevailing trend, for now, is that prices will continue rising.
Shipping costs
Global shipping costs have risen steadily over the last 2 years.
COVID-19, increased demand for freight, congested ports, container shortages, and reduced number of ships have contributed to the astronomical rise in freight charges.
The average cost of transporting a 20-foot container from China to Australia has increased by over 40%
The extraordinary increase in freight charges means that the average solar prices in Australia have increased.
Additionally, the port congestion and ship shortages mean that solar panels spend more time on transit increasing storage, and warehousing charges.
Government incentives and subsidies
Government funding to the subsidisation program decreased in 2021 in line with its 2030 deadline. The solar subsidy program offered by the Australian government has a direct bearing on the overall solar costs.
The government offers incentives to solar owners based on different factors, including system size – with bigger systems earning higher bonuses or STCs (Small Scale Technology Certificates) than smaller systems.
STCs are dependant on the amount of energy a solar system generates and contributes to your REC (Renewable Energy Certificate). Typical STCs factor your system size, postal code/location and when your system started generating power.
Let's take a closer look at STCs and how they are affecting solar prices in 2021.
Here is how each factor affects your STC and, in extension, the pre-installation bonus you'll get from the government.
Location means that solar systems in different parts of Australia will generate different STCs. The potential amount of electricity a system can produce determines the multiplier used to calculate the STC. For example, a solar system in Queensland will have a higher STC multiplier than a Victoria system.
System size means that higher kW systems earn more STCs compared to smaller systems. Look at how system size affects the amount of rebate.
1.5kW – $866
2kW – $1182
3kW -$1773
4kW -$2401
5kW -$2994
6kW -$3585
Installation date is an essential factor to consider when setting up a solar system in 2021. The Australian government is planning to phase out the STC scheme by 2030.
The deeming period, the time between now and 2030, directly affects the amount of STC per kW a system can generate.
With each subsequent year, the STC/kW a system generates keeps on reducing. For example, a system set up in 2019 will not earn the same STCs as a system set up in 2021.
COVID19
Covid19's impact on Australian solar prices in 2021 is evident. By limiting solar panel transportation, especially to the West and South Australia regions, COVID19 has increased prices in these areas.
Regions with stricter border control like Victoria have recorded over 10 cents increase per watt of solar energy produced from 2020.
In September 2020, the per-watt price for solar in Victoria was $0.81 and in September 2021, the per watt solar price in Victoria was $0.91
The cost increase can be attributed to the COVID19 situation since some regions recorded a decline in their per watt cost.
Meanwhile, Queensland recorded a decrease in its per watt solar energy cost. In September 2020, Queensland per watt cost was $0.90, while in September 2021, it was $0.89.
Though the price difference is slight, it can be attributed to the slightly better border control measures and shorter lockdown restrictions during the height of the pandemic.
Additionally, COVID19 has directly impacted labour costs. By forcing more people to work from home, labour costs have gone through the roof.
Social distancing means that fewer people are now available for solar installation jobs.
Conclusion
The Australian solar energy sector is robust and growing at a fast pace.
Despite the numerous challenges of 2021, including COVID19, crippling supply shortages, a raw material crunch and reducing government incentives, the sector remained steady. Although all trends are showing an increase in the prices of solar, the future is not all bleak.
With the Australian economy now adapting to live with COVID19, the situation is slowly stabilising. Solar prices will reduce in the long run, possibly in the next 12 months or less.
As the world economy seeks to bounce back from the pandemic and China is slowly sorting its energy situation, things are slowly improving. Additionally, the global shipping mess has started to ease.
In the meantime, the average solar prices will increase for the foreseeable future.
Next Steps…
Interested in solar? By clicking below you can use our smart solar calculator to find out just how much you could save with solar, what rebate you are eligible for, and the impact you will have on the environment.
Don't wait until next quarter's bloated bill, and get started today!
Click here to calculate your solar savings!
Join over 20,000 homeowners who have made the switch with Instyle Solar, or the 1000+ positive reviewers who have been more than happy with their solar install.
Otherwise, you can always contact us on 1300 133 556, or email if you prefer at sales@instylesolar.com.au.

Interested in Solar?
Find out if you're eligible for solar and how much you could save by switching.
Start Now
Get in touch with one of our experts
Contact Us
Keep up with the latest solar news