What happens AFTER your solar install: A step-by-step guide
Published: 6 March 2018
Congratulations! Now you have shiny new solar panels installed. You're all excited and ready to eliminate your electricity bill for good.
Is it time for you to turn on that magic switch yet?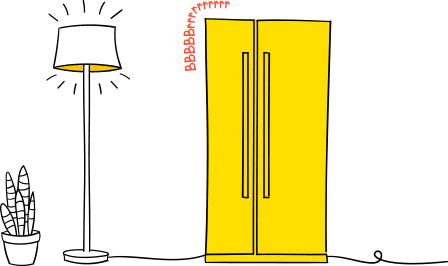 Well, not just yet. First of all, we need to get you officially registered as a solar owner and connected to the system. And there is a little bit of paperwork that needs to be done once you install solar.
It involves the cooperation of you, your solar installer, your energy retailer, and the energy governing body in your state.
The energy governing body in your state is an electric power distribution company owned by the government.
You need permission from them to connect to the network, change your meter at home, and to be allowed to feed your excess electricity to the grid. Here's what happens after you install solar.
Step 1. Submit a connect application form
Even though it happens before the actual installation day, everything starts with gaining permission to connect to the network.
It doesn't matter if you're going to export your electricity to the network or not, all solar power installations that have the capacity to export must go through this process and submit a Network Connection Application.
Your solar installer [ie – Instyle Solar] does this for you. The information submitted can all be found on your electricity bills and in your current electricity metre box. We at InstyleSolar can submit a connect application form on your behalf as soon as we have a copy of your contract and personal details.
Then the governing energy provider will determine the impact of your solar power installation on the network, and the size of the system you may connect.
If your solar system size is 5kW or under it is approved straight away in most cases, in most states.
Anything over the 5kW may take anywhere from 3-5 business days to approve.
Keep in mind: a connect must be approved BEFORE the installation process.

Step 2. Submit Electrical Work Request (EWR)
So this is what happens when the solar installation team leaves.
Even though your connect has been approved and solar system successfully installed, it doesn't mean you can go ahead and turn it on just yet.
Your inverter will remain switched off until you've changed, or upgraded the meter box. This step varies for a few circumstances like if you've had solar before.
This is to ensure that the meter doesn't record consumption inaccurately and therefore impact your electricity bill.
Step 3. Switch on the meter
Now we need to submit an Electrical Work Request, or EWR.
This is to inform the governing electrical body that the installation has been done at your premises and that Australian Standards have been applied.
If you're going to stay connected to the grid, the Electrical Work Request will also act as your application for the feed-in tariff (FIT).
Keep in mind: you can still shop around and negotiate feed-in tariff options directly with your electricity retailer after the metre reprogramming/update is done. Its very important that you don't switch retailers part way through your solar installation process as systems across the retailers don't talk to each other na dit could result in your system being turned on.
On receipt of the EWR, a copy will go to the electricity retailer nominated on the EWR.
Once your EWR is sent through, they will contact your preferred retailer and ask for the appropriate forms, documents or information that they require to finalise everything.
Sometimes your retailer may be slow in processing this. Even though all forms have successfully been submitted at our end, we at InstyleSolar can see the status "Awaiting Retailer Request".
Don't panic. Simply wait for the retailer to do the paperwork at their end.
This step may take up to 10 business days.
Step 4. Switch on the system
Last step..
Once a technician or electrician from your preferred electricity retailer (or from the governing electricity provider) switches on the meter, your solar system will all be hooked up and will start producing.
Done!
Cheers, wine, confetti.
Things to note after:
So now you can see that it takes more than just throwing panels on your roof and connecting the cords to start benefiting from solar power.
The process contains paperwork with the certain bureaucracy involved, but if you choose the right solar installer, they'll do everything they can to ensure it's smooth and easy for you.
Don't be shy, and make sure you ask questions before you sign the contract. You have a part in this too.
Here are a few extra things to keep in mind:
Changing Energy Retailer
It's your right to make the best out for your Feed-In Tariff. Do your research to see what's available for you on the market and change the electricity provider, if needed. Check out this website for the most up to date FITY in your state: https://wattever.com.au/retailer-solar-feed-in-tariffs-by-state-and-territory/
But keep in mind that if you change retailers during the process or within the first week of having you're solar installed, it will take longer for your EWR to be approved as systems and companies don't talk to each other. So our advice is to hold tight on the switch until you metre is programmed correctly.
Speeding Up Your Meter Installation
During the stage of "Awaiting retailer request" of your EWR, it's up to your retailer to complete documents or take action.
Everything at our end, as a solar installer, has been successfully submitted.
Remember: once it says it's "Completed" we will confirm this status for you and assist with the final stage.
Paying Fees
Unfortunately, to connect the meter, there is usually a fee. Talk to your energy provider about the prices.
As always we are here to help and to make this process simple for our customers once they've had their solar install. We are only a phone call or email away if you need any assistance or would like an update at any stage of the final steps.
Next Steps…
Interested in solar? By clicking below you can use our smart solar calculator to find out just how much you could save with solar, what rebate you are eligible for, and the impact you will have on the environment.
Don't wait until next quarter's bloated bill, and get started today!
Click here to calculate your solar savings!
Join over 20,000 homeowners who have made the switch with Instyle Solar, or the 1000+ positive reviewers who have been more than happy with their solar install.
Otherwise, you can always contact us on 1300 133 556, or email if you prefer at [email protected].

Interested in Solar?
Find out if you're eligible for solar and how much you could save by switching.
Start Now
Get in touch with one of our experts
Contact Us
Keep up with the latest solar news