There are over 350 solar panel manufacturers worldwide. Each PV manufacturer can produce several solar modules with different purposes and costs.
For homeowners, researching every solar panel on the market to find the best option for your home can be daunting.
The CEC or Clean Energy Council is a regulatory body that aims to promote quality solar products, installers, and retailers and protect the consumer. In doing so, the CEC has approved a number of solar panels to help homeowners better navigate the solar energy market.
Like any other product, the quality and standard of solar panels in the market vary hugely. The same can be said about their manufacturers, retailers and installers.
Not all panels are the same; the type of materials used, the structuring of the components, the manufacturing methods and standards all affect the quality and lifespan of the solar panel.
How the panels perform in terms of power output also matters. Another factor to consider when buying solar panels is the reliability of the manufacturer (or supplier) and vendors who install or service the panels. It's in your best interest to know if they operate by acceptable codes and standards of operation.
Homes, businesses, schools and other facilities wishing to benefit from solar power can have their concerns about safety, quality and reliability suitably addressed by referring to the Clean Energy Council's list of solar panels.
Do your homework first before you decide to purchase solar panels and have someone install them for you. The research you do will help you understand any confusing technicalities to choose the right system for your needs. There's no 'one size fits all' for solar systems.
This post will give you all the information you need about the Clean Energy Council of Australia, what it means to be CEC approved, the CEC approved list of solar panels and the approval process.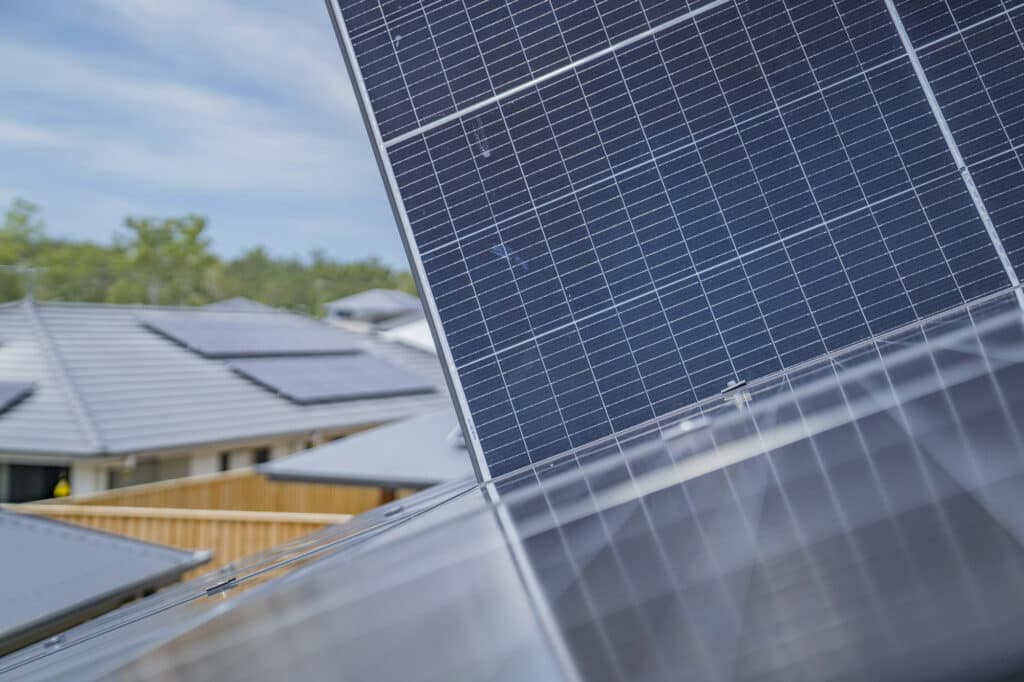 What Does CEC Approved Mean?
A Clean Energy Council approved solar photovoltaic module is has passed safety and quality tests that the Clean Energy Council applies to solar PV panels.
Buying Clean Energy Council approved solar modules also makes you eligible for solar rebates such as Small-scale Technology Certificates.
The Clean Energy Council run tests to ensure that solar PV modules on the approved product list comply with all CEC Terms and conditions.
The testing aims to determine the safety and compliance of approved solar PV systems with:
Required product standards
Certifications for the solar module
The Clean Energy Council first purchases an approved solar panel or similar product from the Australian market via random selection.
Next, they conduct tests in various testing laboratories.
Perhaps the test results show that the approved solar product doesn't adhere to the device's certifications. In that case, the Clean Energy Council can do the following:
Remove or suspend the listing of the approved solar product until compliance verification
Erase or discontinue all the approved solar product model numbers in the approved list for that specific manufacturer
Notify the Clean Energy Regular, industry or state electrical authorities
Prohibit the listing of any further applications until all Clean Energy Council compliance standards are met.
Besides solar panels, the CEC also endorses solar retailers and solar installers.
A CEC approved solar retailer is a reliable agent in the solar industry because they are Clean Energy Council approved.
CEC accredited installers also conform to the solar industry best practices and install approved solar PV modules.
Who is the Clean Energy Council?
The Clean Energy Council is a non-profit body for the Australian clean energy industry. The body represents companies that operate in solar and renewable energy systems. Additionally, the Clean Energy Council maintains high service and product standards to ensure the Solar industry's safety, quality, and reliability.
The Clean Energy Council shapes the Australian energy market in the following ways:
Creating and implementing effective advocacy and policy measures
Collaborating with the Australian government to increase solar energy product demand
Developing initiatives and services for CEC members and other interested parties to facilitate the growth of the solar industry
Promoting the use of clean energy across Australia
Maintaining a list of approved battery storage systems, inverters and modules.
The Clean Energy Council represents more than 7000 accredited solar and battery installers and 900 leading renewable energy and energy storage businesses. They also represent more than 1000 retailers approved through the Solar Retailer Code of Conduct. However, the council itself doesn't sell batteries or solar components and never engages in direct marketing with consumers.
There are three separate categories that the CEC endorses. They cover individual installers, solar retailers and other businesses.
Let's get an overview of each category:
Clean Energy Council Membership is for businesses interested in energy efficiency and renewable energy in Australia. CEC membership is available to any company in any industry (not just the solar energy industry). A CEC member advocates for beneficial policies and actively promotes them.
CEC Approval is where solar retailers receive Clean Energy Council approved solar retailers since they are signatories to the CEC Code of Conduct. The CEC Code is voluntary for companies that sell solar photovoltaic PV systems. Clean Energy Council approved solar retailers don't conduct misleading advertisements or campaigns. They're also tasked with maintaining the solar industry's reputation through transparent business practices.
CEC Accreditation is for individual designers and installers. As a home or business owner, if a CEC-accredited technician installs your system, you are eligible for government rebates such as a Small-scale Technology Certificate (STC).
Clean Energy Council Approved Solar Panels List
The Clean Energy Council approved solar panels list has more than 5354 modules from 100 manufacturers.
Below is a list of approved solar panel manufacturers.
| | | | | | | |
| --- | --- | --- | --- | --- | --- | --- |
| | Manufacturer | Model Number | Approval Date | Expiry Date | Certificate Number | Certifying Body |
| 1. | AE Driven Solutions GmbH | AE300HP6-60 | 10/10/2019 | 10/10/2022 | 40050536 | VDE |
| 2. | Alternative Energy (AE) Solar Co., Ltd. | AE360HM6L-60 | 07/07/2021 | 07/07/2024 | 44 780 21 406749-011 | TÜV NORD CERT GmbH |
| 3. | AVANCIS GmbH | PowerMax 155 | 14/04/2021 | 17/06/2023 | PV 60154967 | TÜV Rheinland LGA Products GmbH |
| 4. | AXITEC Energy GmbH & Co. KG | AC-530MH/144VAU | 03/08/2021 | 03/08/2024 | Z2 096640 0008 Rev. | TÜV SÜD |
| 5. | BYD Co. Ltd. | BYD355MIK-33 | 09/11/2020 | 09/11/2023 | Z2 060191 0133 Rev. 07 | TÜV SÜD Product Service GmbH |
| 6. | Baoding Lightway Green Energy Technology Co., Ltd. | LWG1MH72-405W | 03/06/2020 | 03/06/2023 | 44 780 20 406749-082 | TÜV NORD |
| 7. | Beijing Hua Xin Liu He Investment (Australia) Pty Ltd. | ZA1ZDNY-295C60 | 05/03/2021 | 10/01/2023 | Z2 18 01 84092 010 | TÜV SÜD Product Service GmbH |
| 8. | Canadian Solar Inc. | CS3L-370MS (IEC1000V) | 29/01/2020 | 01/07/2022 | 40045991 | VDE |
| 9. | Hanwha Q CELLS GmbH | Q.PEAK DUO XL-G11.2 575 | 07/02/2022 | 07/02/2025 | PV 60149904 | TÜV Rheinland |
| 10. | Infinity New Energy Co., Ltd. | INE-355-6MA | 21/06/2019 | 21/06/2022 | PV/18/BRU/00063 | SGS Belgium NV-Division SGS-CEBEC |
| 11. | Jinneng Clean Energy Technology Ltd. (Jinnergy) | JNMM144-405 | 03/09/2020 | 03/09/2023 | Z2 004172 0010 Rev. 0 | TÜV SÜD |
| 12. | Sunergy USA Works LLC | SUN320-72P | 18/10/2019 | 18/10/2022 | Z2 001639 0019 Rev.00 | TÜV SÜD Product Service GmbH |
| 13. | SolarEdge Technologies Ltd. | SPV365-R60DWMG | 08/12/2020 | 08/12/2023 | Z2 082496 0009 | TÜV SÜD |
| 14. | Sunman (Zhenjiang) Co., Ltd. | SMF145F-12X04UW | 09/12/2021 | 09/12/2024 | 40050735 | VDE |
| 15. | Wuxi Consort Science Technology Co., Ltd. | CST156*156-P-72-330W | 02/09/2019 | 02/09/2022 | 44 780 19 406749 – 133 | TÜV NORD CERT GmbH |
| 16. | Zhejiang Beyondsun Green Energy Technology Co., Ltd. | TSHM405-132HW | 12/05/2021 | 12/05/2024 | PV 50481089 | TÜV Rheinland |
How do CEC Solar Panels get approved?
Whenever a manufacturer aims to have their modules on the Clean Energy Council Approved Product List, they need to complete the following steps:
1. Test the Modules to the Required IEC or Australian Standards
An accredited test laboratory must be performed to ensure that the PV modules meet all standards in the IECEE scheme.
An accredited national certifying body linked with the lab will then issue a PV module testing certificate.
Only organisations listed on the IECEE website can conduct Module testing and certifications.
2. Obtain an Enhanced Listing
Enhanced Listing assures consumers that the manufacturer uses materials that meet base standards and beyond. They also assist buyers, and CEC approved solar retailers in identifying quality PV modules since these products meet higher standards.
Manufacturers must meet all the requirements stated in the Enhanced Listing Checklist to receive an enhanced listing.
Here's what the Enhanced Listing Checklist covers:
VDE Quality Tested, or TÜV Rheinland Quality Controlled PV (QCPV)
IEC TS 62941 Quality Standard
PVEL Product Qualification Program (PQP)
IEC TS 62804 PID Resistance
IEC 61701 Salt Mist Corrosion Resistance <2km from the sea
IEC 62716 Ammonia Resistance
Light and elevated Temperature Induced Degradation (LeTID)
Backsheet Durability
Final Checks
3. Nominate a Solar PV modules Importer or Local Manufacturer
Manufacturers should nominate every importer of their products if they meet Australia's manufacturer warranty requirements.
Importers need to meet the following criteria:
Be a legally identifiable Australian or New Zealand entity
Possess an ABN (Australian Business Number/IRD number (New Zealand Inland Revenue Department)
Maintain a record of all serial numbers and make them accessible to the Clean Energy Council.
4. Gather All Necessary Documentation
In order for an application to be successful, the manufacturer requires the following documents:
Compliance certificates (in PDF format)
Construction Data Form linked with the certificate
A serial number that traces the date and place of the manufacturer
Technical sales datasheet/brochure
Installation manual
Representative module rating label
5. Apply Online
The final step in the process is filling out the PV module application. The manufacturer must provide all the correct information in the application checklist. An application fee is also required for the Clean Energy Council to assess the application.
Next Steps…
Interested in solar? You can use our smart solar calculator to discover how much you could save with solar, what rebate you are eligible for, and the positive impact you will have on the environment – all in one simple click!
Don't wait until next quarter's bloated bill. Get started today!
Click here to calculate your solar savings!
Join over 20,000 homeowners who have happily made the switch to Instyle Solar. Need further proof? Check out the 1000+ positive reviewers who have been more than satisfied with their solar install.
You can also contact us on 1300 133 556 or email us at sales@instylesolar.com.au.