Solar Monitoring – What is it?
Published: 29 May 2020
One of the biggest changes in the solar PV industry in recent years, is the addition of solar system production & consumption monitoring.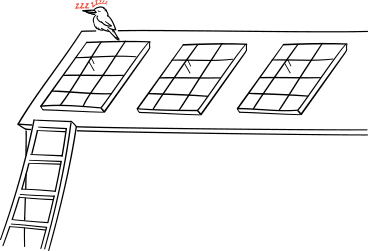 There are currently two types of solar monitoring in the market – the first being standard inverter production monitoring, which comes embedded in the inverter device. The second is a range of additional add-on products which provide live data that is much more detailed providing numerous insights into your system production and the household consumption habits.
Ausgrid data from 8,000 solar PV systems shows that approximately 51.8% are not performing to capacity – here's how you can monitor your system to know exactly when there is an issue and ensure you're maximising its benefits.

1. Standard Inverter Production Monitoring
All Instyle Solar inverters now come with production monitoring as a standard, as long as you have a WiFi network connection, or at least two-three bars of signal at the location of your installed inverter. This type of production monitoring details the basic information about your systems energy generation figures [daily & since the system was originally turned on], grid export and any error messages. You can view and scroll through these data categories on the external inverter screen. Some inverter brands also have a more user-friendly mobile app. The app allows you to look at the information in a digestible layout and often alerts you if your system isn't functioning correctly.
2. Add-on Products – Consumption monitoring
Additional solar consumption monitoring software includes the data mentioned above but with extra detail. Not only can you see what you've produced via the rooftop system and what you have exported back to the grid or stored in your battery, but you can also view detailed information about what power you've used from your solar system. These systems also have software that can be logged into on a desktop or mobile app. Having this detailed information at your fingertips via an easy-to-use app gives you a good expectation of your next electricity bill (or whether you will be in credit!). This is not a standard solar monitoring product, but we highly recommend adding this to your solar system.
You can purchase an energy/smart meter for Fronius Inverters or add the Solar Analytics product to any system (regardless of the inverter brand). Solar Analytics operates on a 4G network and continually transfers updated data in 15-minute increments so you can see what your system is producing and your household consumption in real-time. The detailed data received from devices, like the Fronius Smart Metre or Solar Analytics, allow you to make smart changes to the way power is used within the home, and continually save on power bills. With this insight, you will be able to confidently predict upcoming bills and savings, and get the most out of your system.
Solar Analytics – a deeper look
The solar analytics monitoring system is available to view via an app. Each customer receives their own login information and they can view detailed information about a number of factors on their solar system. Taken directly from the Solar Analytics website, the wealth of data at your fingertips contains detailed breakdowns of –
1. Your solar energy system's performance
2. Your energy usage
3. Net electricity bought and sold
4. When and how you're loading your system
5. How much energy your system should be generating vs actual energy generated on any given day
6. Alerts and faults diagnostics
The best part about it is that the data is live. There's no waiting until the next day to see yesterday's figures – what your seeing is what is happening in real-time.
Solar Analytics and Solar System monitoring is not only allowing you to view the dwellings production and consumption figures – it's allowing you an in-depth understanding of how you've reduced your carbon footprint by calculating how much coal and other valuable resources that your NOT using, by generating power via solar.
The available data is both environmentally and financially worthwhile, with oversight of consumption habits and trends through the data, you can make small changes to how power is used in the house, to further reduce your power usage and increase storage, or selling it back to the grid for a return.

The Solar Analytics monitoring cost is based on an upfront fee for the device and installation, and a yearly/monthly subscription model. Usually customers have the first year or two included in their initial installation fees [this can differ for solar analytics retailers and resellers].

The Solar Analytics monitoring team have created a number of handy videos on You Tube that walk you through some of the features and troubleshooting with the app. See their YouTube channel here. Below is a video snapshot of the Solar Analytics dashboard to see how beneficial this product can be to your home.
'Solar.Web' for the Fronius Smart Metre
The Fronius Smart Metre measures up well to the Solar Analytics products but is made specifically for solar systems that are run with a Fronius Inverter. The complete rundown of the Fronius solar monitoring product can be read about here.

The data that is recorded for your Fronius Smart Metre and connected solar system is viewed through an online desktop dashboard on the Solar.Web website and via an app – Fronius Solar.web.

The best part is that you can try before you buy with the solar.web solar monitoring product because Fronius have created a publicly accessed demo account which allows you to view exact dashboards that you would have access to if you had the system installed on your own home.
Access the demo here at: https://www.solarweb.com/
In addition to this, Fronius has put together a handy solar.web webinar and posted it on YouTube. It includes a guided view of the solar.web system and some of the key functions and data views you can find with the software. If you tune in around 21:20 minutes in the below video, they dive directly into the demo.
Solar monitoring is a vital part of getting the most out of your solar system on the roof. The savings can be significant over a yearly period when you're able to view and edit the way you consume your power.
Next Steps…
Interested in solar? By clicking below you can use our smart solar calculator to find out just how much you could save with solar, what rebate you are eligible for, and the impact you will have on the environment.
Don't wait until next quarter's bloated bill, and get started today!
Click here to calculate your solar savings!
Join over 20,000 homeowners who have made the switch with Instyle Solar, or the 1000+ positive reviewers who have been more than happy with their solar install.
Otherwise, you can always contact us on 1300 133 556, or email if you prefer at sales@instylesolar.com.au.

Interested in Solar?
Find out if you're eligible for solar and how much you could save by switching.
Start Now
Get in touch with one of our experts
Contact Us
Keep up with the latest solar news