How We Met – Karl Brown & Jonah Hicks
Published: 8 October 2020
While we're sure you are well across the goal of Instyle Solar (that is, to make solar simple), what you might not know is how the partnership came about.
Instyle Solar co-founders, Karl Brown and Jonah Hicks first crossed paths in sales training for another solar company. The two joined the team at the same time, and in Karl's words, "were both on a mission to shake up the industry and make our mark."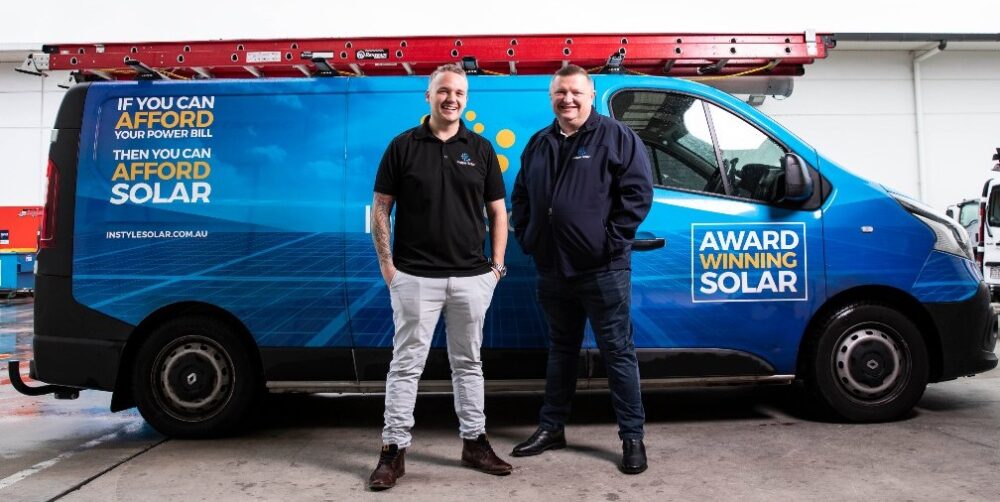 First impressions
Karl says Jonah has a unique ability to get the job done. He's got an incredible work ethic and hunger to learn and succeed.
In Jonah's words, Karl was a little over-confident at first meeting. He was positive but seemed quite up-front and forthcoming. Six years on, Jonah is certain Karl is the 'real deal'. Jonah says you can go to Karl with any problem and he will spend the time needed to analyse the issue and find a solution.
The two were at different stages of their respective lives – but shared the same vision, had similar work ethics and made it happen with the help of many others along the way. Like most business partners, there is certainly times Karl and Jonah disagree. However, the two always end up back on the same page and moving forward at an even more rapid rate.
So what's next?
The pandemic has encouraged our team to rethink our current strategy and structure. On the other side of lockdown, Instyle Solar has simplified and re-evaluated all areas of our business for streamlined efficiency and focused on our customers with a renewed enthusiasm – coming out on a growth trajectory.
Together, Karl and Jonah are looking to significantly invest in other states across the next 12 months. Instyle Solar has long dominated the South-East Queensland market, but our team is looking to spread our wings across Australia. During the past three months, Instyle Solar has opened a new warehouse in Sydney and expanded our presence in Victoria, South Australia and Western Australia.
A deeper story about the business partners' early days has been published in the August edition of the Courier Mail – 'QLD Business Monthly' pullout.
*Photo Credit – Imagery taken by the Courier Mail Photography team
Next Steps…
Interested in solar? By clicking below you can use our smart solar calculator to find out just how much you could save with solar, what rebate you are eligible for, and the impact you will have on the environment.
Don't wait until next quarter's bloated bill, and get started today!
Click here to calculate your solar savings!
Join over 20,000 homeowners who have made the switch with Instyle Solar, or the 1000+ positive reviewers who have been more than happy with their solar install.
Otherwise, you can always contact us on 1300 133 556, or email if you prefer at sales@instylesolar.com.au.

Interested in Solar?
Find out if you're eligible for solar and how much you could save by switching.
Start Now
Get in touch with one of our experts
Contact Us
Keep up with the latest solar news