How solar can increase the value of your property
Published: 8 January 2021
We get it, your home is probably your biggest asset and ensuring it grows in value is a significant part of your financial future. Did you know, solar panels are an effective way to increase the value and appeal of your home?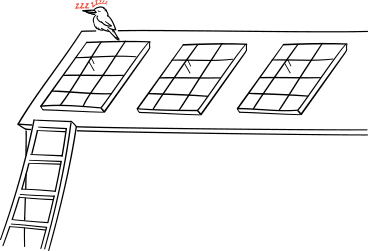 Many homeowners consider solar power for it's environmental and financial benefits, but did you know it has also shown to increase your property value?
How solar increases property value
Recent data from PRD Nationwide and the Queensland University of Technology reveals sustainable homes outperform other property types come "sale" day. The median sale price of a 'green' home is 10 per cent higher and on average, sustainable homes sell 13 days faster.
There's more – the majority of Australians believe solar powered homes are more valuable than those with traditional means of electricity. According to Origin Energy, 77 per cent of Australians think solar panels add value to a property and 57 per cent would pay up to $10,000 more for a home with solar energy installed. 55 per cent of renters would also pay at least $10 more a week for a property with rooftop solar, proving investing in solar can be an attractive addition for prospective buyers and renters.
The numbers make a clear case of how solar can increase the value of your home, and homeowners across Australia are taking notice.
Just last month, 100 per cent of South Australia's energy demand was generated through rooftop and utility-scale solar – the first major jurisdiction in the world to be powered completely through solar energy. Rooftop solar is currently installed on one in three or 278,000 homes in South Australia, with approximately 2,500 new systems installed each month in 2020.
The cost of solar
With ongoing research and advancements into solar energy, homeowners will benefit as solar is set to become more affordable and accessible. The average cost of solar will depend on the size of your property, but you can typically expect to pay between $3,500 to $9,500 for a 5kW system and $7,600 to $14,100 for a 10kW system. While this may seem like a large investment, consider how much you'll save on your electricity bills and the value you'll add to property once installed.
Australia has more solar coverage than any other continent in the world – so taking advantage of solar energy just makes sense. If you're looking to sell your property or cut household expenses, solar can offer something simple paint jobs and full renovations can't.
Next Steps…
Interested in solar? By clicking below you can use our smart solar calculator to find out just how much you could save with solar, what rebate you are eligible for, and the impact you will have on the environment.
Don't wait until next quarter's bloated bill, and get started today!
Click here to calculate your solar savings!
Join over 20,000 homeowners who have made the switch with Instyle Solar, or the 1000+ positive reviewers who have been more than happy with their solar install.
Otherwise, you can always contact us on 1300 133 556, or email if you prefer at [email protected].

Interested in Solar?
Find out if you're eligible for solar and how much you could save by switching.
Start Now
Get in touch with one of our experts
Contact Us
Keep up with the latest solar news