How microgrids are reshaping Australia's energy supply
Published: 18 December 2020
Just like smartphones or electronic cars, the popularity of solar panels and battery storage continues to grow year-on-year, as solar photovoltaic technology becomes cheaper, more installers enter the market and product innovations come into effect.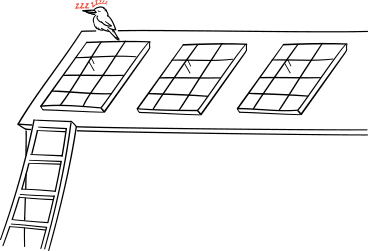 Once the poster child for fossil fuels, gas and oil, the Australian National University found renewable energy in Australia is growing at a per capita rate ten times faster than the world average. But as energy utilities race to renewables, a new problem arises. As Australia's electricity supply becomes more dynamic and decentralised, it becomes harder to balance supply and demand, impacting grid security. The industry is looking at alternatives – and microgrids and smart energy generation are predicted to be the next big thing.

What's a microgrid?
A microgrid is a local energy grid with its own control capacity – allowing it to disconnect and operate freely from the traditional energy grid. Microgrids are typically powered using generators, batteries or renewable resources within the network, and can break off and operate on their own in times of crisis like storms or power outages.
From a couple of buildings to a whole town or suburb, the long-term goal is that the energy generated by rooftop solar and stored in home batteries within microgrids can be shared between neighbourhoods – even those without their own solar panels.
Future of microgrids in Australia
Last year, Australia's traditional energy grid teetered on the edge of widespread blackouts on several occasions as record temperatures, devastating bushfires and violent storms battered the country. Australia came close to widespread blackouts eight times – four times in New South Wales, three in Victoria and once in South Australia, according to the Australian Energy Market Operator (AEMO).
As extreme and catastrophic weather events become more frequent and severe, microgrids can provide a reliable power source during times of crisis and strengthen the resilience of Australia's energy network.
Unlike regional-scale grid infrastructure, microgrids also present a more reliable, secure and cost-effective energy supply for regional and remote communities. People in remote areas frequently have poor access to basic services and face high costs of living – and microgrids can reduce reliance on traditional energy sources.
Batteries and microgrids
A crucial part of the microgrid is the role of batteries. Batteries undergo daily micro-charge and discharge cycles as solar generation fluctuates, such as during times of cloud cover or dust gathering.
Batteries allow the time-shifting of energy and help microgrids integrate renewable resources and balance supply and demand, providing the insurance Australia's electricity grid needs.
The future of Australia's energy supply is renewable – and microgrids may provide the solutions to dynamic and decentralised electricity generation. 
Next Steps…
Interested in solar? By clicking below you can use our smart solar calculator to find out just how much you could save with solar, what rebate you are eligible for, and the impact you will have on the environment.
Don't wait until next quarter's bloated bill, and get started today!
Click here to calculate your solar savings!
Join over 20,000 homeowners who have made the switch with Instyle Solar, or the 1000+ positive reviewers who have been more than happy with their solar install.
Otherwise, you can always contact us on 1300 133 556, or email if you prefer at [email protected].

Interested in Solar?
Find out if you're eligible for solar and how much you could save by switching.
Start Now
Get in touch with one of our experts
Contact Us
Keep up with the latest solar news