Canadian Solar is one of the world's best producers of solar panels. The company has pioneered different innovative technologies to produce high-performing solar modules, including the dual cell HiKu, the shingled HiDM, and the bifacial BiKu.
If you plan to go solar, you'll want the very best components for your rooftop PV system that'll be exposed to various elements.
But choosing the right solar panels can be difficult with the myriads of solar brands, and with each one touting their products as the best.
This article will shine a light on Canadian Solar and its products.
We'll tell you where their products are manufactured and whether they're good. Lastly, we'll reveal some of the best solar panels of Canadian Solar and tell you why they are top-notch.
Let's dive in!
What is Canadian Solar?
Canadian Solar is renowned for manufacturing solar PV modules and delivering large-scale solar projects.
The company was established in 2001 by Chinese engineer – Shawn Qu. As its name suggests, Canadian Solar is a Canadian company. It is registered and headquartered in Canada (Guelph, Ontario).
Because of the strong Chinese ties of the company, a question often asked is, "is Canadian Solar Chinese". Being registered in Canada, the company is technically Canadian.
Canadian Solar has been a publicly-traded company since November 2006, when it was listed on the Nasdaq Stock Market.
Canadian Solar has grown in leaps and bounds since it started in 2001. It is now the world's fifth-largest producer of solar panels.
It boasts about 63 GW of solar modules shipped. Until the end of 2021, the company's module production capacity was 23.9 GW, while its cell production capacity was 13.9 GW.
Where are Canadian Solar products manufactured?
Canadian Solar currently has 20 manufacturing facilities spread across Asia and the Americas.
However, most of its products are manufactured in China. In fact, the company's first production was in China. This was in 2002, one year after the company was established in 2001.
Also, the company's biggest manufacturing plant is in Suzhou, China.
Are Canadian Panels Tier 1 Quality?
Yes. Canadian Solar products are some of the best in the market. Using high-end technology, they deliver products that are highly efficient and durable.
Consider the following technologies that make Canadian Solar modules some of the best around.
Dual Cell technology. This allows a panel to work as two parallel modules with independent performance.
Dual Cell technology gives the panels better shade tolerance. With traditional panels, if one part of the panel is shaded, the production of the other part (though unshaded) will drop to the reduced level of the shaded part. But with dual cell technology, the unshaded part continues to produce optimally.
Multi Busbar technology. This increases the pathway that electricity runs along in the solar cells. It reduces electrical resistance along each pathway, in the same way as more lanes on a highway will reduce traffic congestion.
To put Canadian Solar's MBB technology in perspective, the company's HiKu solar panel has 9 busbars while most solar panels have 3 – 5.
PERC technology. The Passivated Emitter and Rear Cell technology involves adding a dielectric passivation layer on the rear of solar cells. It increases their ability to capture light and improves the energy conversion efficiency.
LIC panels. The panels have lower internal current, which spreads amongst the multiple strings of cells. This reduces hotspot temperature, minimising the risk of cell cracking and damage to the back-sheet of the solar panel.
Also, Canadian Solar has set solar world records that still stand. In March 2020, Canadian Solar set a world record of 23.81% conversion efficiency for an n-type multi-crystalline P5 solar cell.
Canadian Solar had also set the previous record of 22.8% efficiency in September 2019.
Given that most of the other top solar brands can boast only 19% – 21% energy conversion efficiency, Canadian Solar has the most efficient modules.
Also, since 2017, Canadian Solar has been rated a Tier 1 solar company by Bloomberg New Energy. This means that their products are so reliable that they are bankable.
Is Canadian Solar better than Longi?
Canadian Solar provides panels that edge over Longi in terms of performance. While Longi provides good quality panels, it's more of a high-volume, low-cost panels manufacturer.
Another reason why Canadian Solar would be considered better than Lingo in Australia is its stronger local presence.
Canadian Solar has more offices and a bigger network of local teams that provides various support services.
Canadian Solar also tops Longi in the area of product warranty. Longi offers 12 years warranty on their modules, while Canadian Solar offers 25 years warranty on some of their modules.
The longer warranty of Canadian Solar is the company's statement that their products will function efficiently for longer without manufacturing defects.
All of Canadian Solar's Panels
Though Canadian Solar is better known for solar modules, the company's products extend beyond solar panels and include inverters and hardware for solar monitoring.
Some of the top solar modules of Canadian Solar are: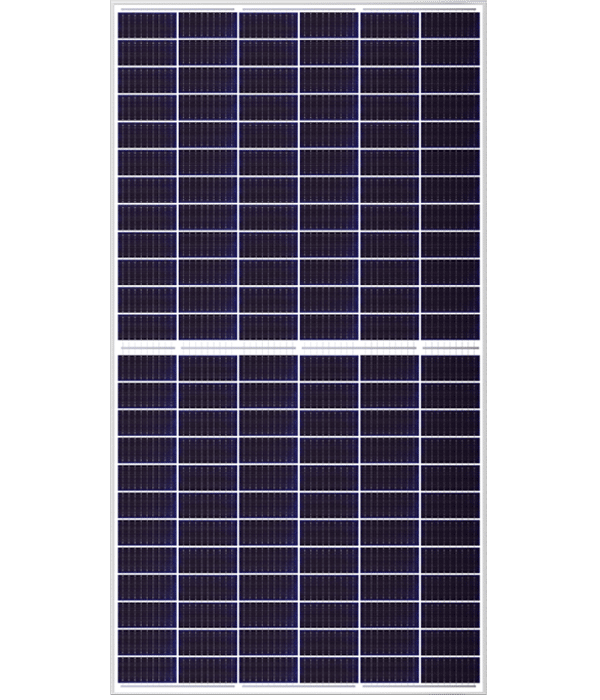 1. HiKu
Canadian Solar HiKu is a High Power Dual Cell PERC Solar Module. They are available in both monocrystalline and polycrystalline configurations.
The HiKu is arguably the most popular panel from Canadian Solar. It is excellent for residential PV systems.
With PERC technology, the HiKu produces 30% more power than conventional panels.
It also features dual cell technology, providing better shade tolerance and reducing losses up to 50%.
Lastly, it has an industry-high warranty – 25 years.
HiKu overview:
Power range: 330 – 460 W
Efficiency of 20%
Lower hotspot temperature
LID and LeTID: less than 2%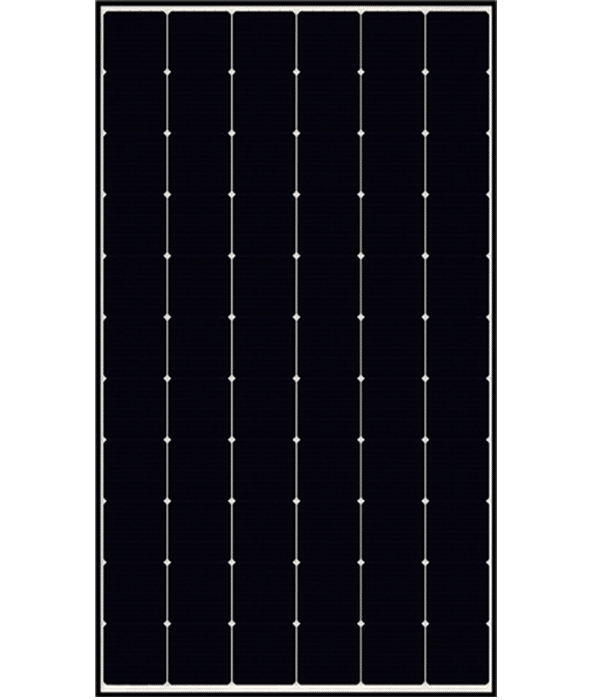 2. HiDM
Canadian Solar HiDM is a High-Density Shingle Mono-PERC Module.
Being a shingled module, the Canadian Solar HiDM is aesthetically pleasing and more.
It removes gaps on panels as well as bus bars, allowing more of the cells to receive sunlight. So, compared to other panels, the HiDM gives high power per square meter. It is also more reliable as busbar failure is reduced.
The HiDM also uses the PERC technology, which increases the ability of the cell to convert sunlight to electricity by about 30%. The effects of shading are also reduced with the HiDM panels.
The HiDM also comes with 15 years product warranty and 25 years linear power output warranty.
HiDM overview
Power range: 320 – 420 W
Shingled modules to optimise light absorption area
Lower hotspot temperature
LID + LeTID is less than 2%
Better shading tolerance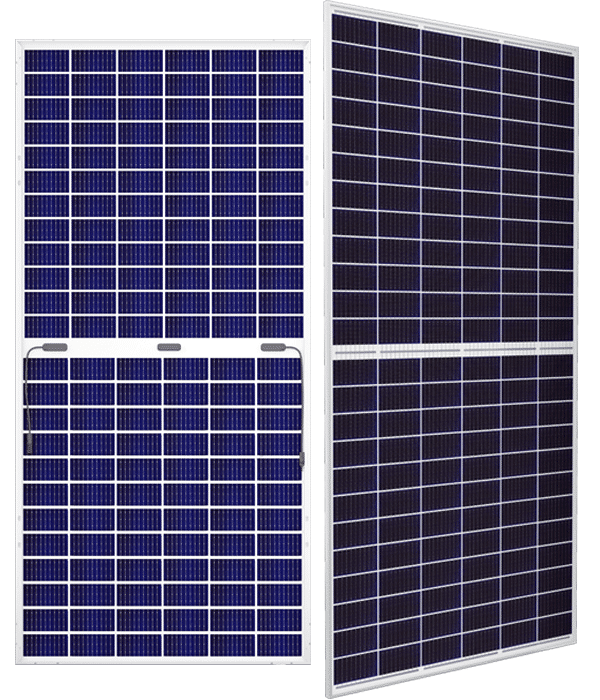 3. BiKu
Canadian Solar BiKu is a Bifacial Dual Cell PERC module. Being bifacial, the Canadian Solar BiKu produces electricity from both panel sides.
The solar panel is able to provide 30% more energy from the backside. Bifaciality plus PERC technology makes this module highly efficient.
It is available in both monocrystalline and polycrystalline silicon configurations. The BiKu also uses anti-shading technology, making it shade tolerant.
The BiKu module has a 12 years enhanced product warranty on materials and workmanship and a 30 years linear power output warranty.
BiKu overview
Power range: 290 – 400 W
144/ 120 dual cell
Bifacial module with rear efficiency up to 75%
Lower hotspot temperature
LID + LeTID is less than 2%
Where to buy Canadian Solar products
You can buy the products of Canadian Solar at its offices and from the company's official partners.
There's the main office in Cremorne, Melbourne, which also serves as a warehouse. Canadian Solar offers modules and general solar services from this office.
The company has three other warehouses in the country, located in Perth, Sydney, and Brisbane.
To have deeper roots across the country, Canadian Solar works with experts in solar design and installation. One reliable business partner of Canadian Solar where you can get the company's high-quality products is Instyle Solar.
Our Guides to Solar Panels and More
We have a series of unique guides to solar, solar finance, batteries and more, if you are looking to do more in-depth research into solar panels check the below:
1. What Are Solar Panels? How Do Solar Panels Work?
To explain this in simple terms, solar panels generate current when sunlight knocks electrons out of the atoms. This current then powers the entire house. Read on for a more in-depth analysis.
The term photovoltaic (PV) was first used in 1890. The term derives from the Greek terms photo, 'phos,' which means light, and volt, which means electricity.
3. What Solar Panels Do I Get? How Many Do I Need?
You might also be wondering what is the ideal number of solar panels for your home, and the answer depends on several factors.
4. How Do You Choose Good Solar Panels?
Are you looking for good solar panels for your home? If so, ensure that you choose the right solar panel for optimum efficiency.
Next Steps…
Interested in solar? By clicking below, you can use our smart solar calculator to find out just how much you could save with solar, what rebate you are eligible for, and the impact you will have on the environment.
Don't wait until next quarter's bloated bill, and get started today!
Click here to calculate your solar savings!
Join over 20,000 homeowners who have made the switch with Instyle Solar or the 1000+ positive reviewers who have been more than happy with their solar install.
Otherwise, you can always contact us on 1300 133 556 or email if you prefer at sales@instylesolar.com.au.