Fronius is a top-rated solar inverter manufacturer in Australia. The Fronius Primo, the Fronius Symo, and the Fronius Symo Hybrid inverters are three of their most popular products; each has advantages and disadvantages.
This review will explore the Fronius Symo solar inverter in detail, including its features, functionality, reliability, quality, and limitations.
Our analysis will help you decide if a Fronius Symo inverter is a worthwhile investment for your solar panel needs.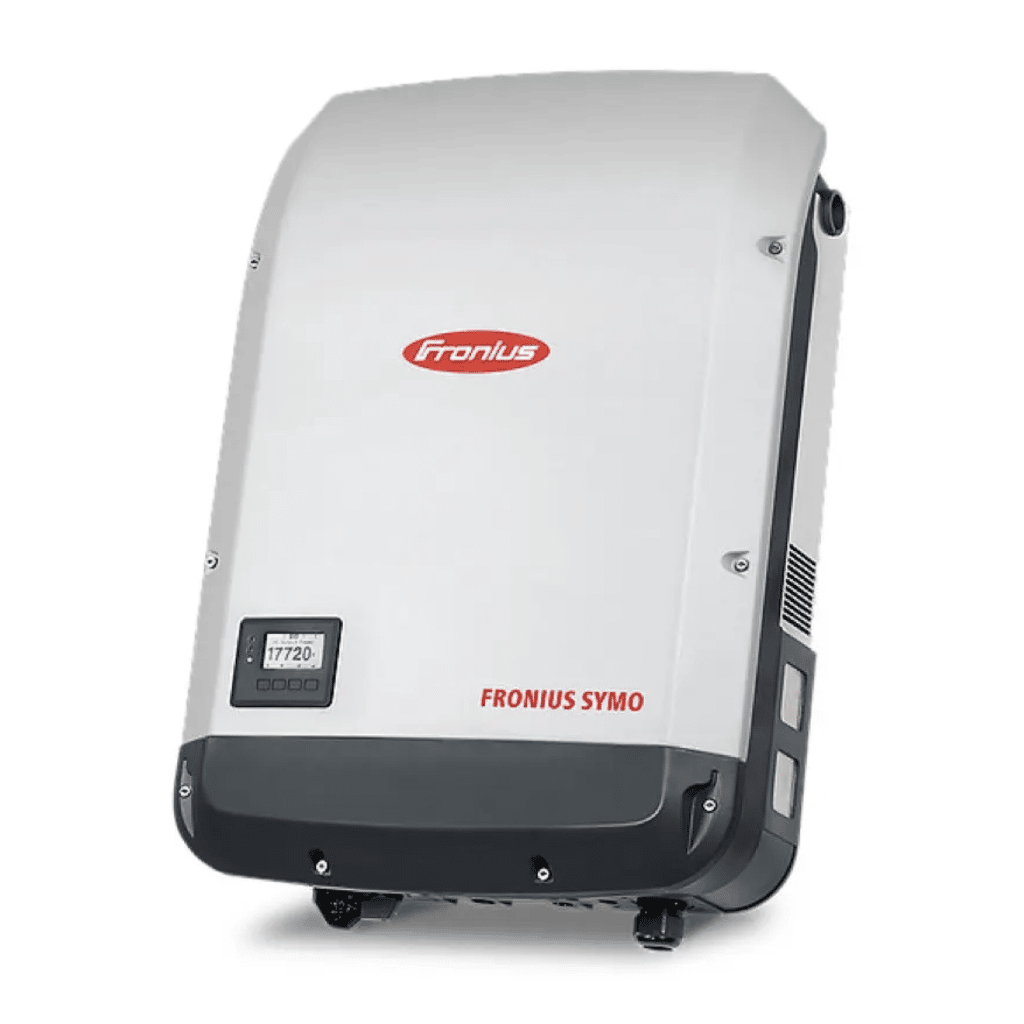 Fronius Symo Overview
The Fronius Symo solar inverter is a three-phase inverter with no transformer (although a single-phase is also available). As a result, Fronius manufactures solar inverters ranging from 3.0 to 20.0 kW in power output, suitable for solar systems of every size.
The design of the Fronius solar inverter is compact and lightweight. It has a maximum AC output of 17.5kw and can be modified to suit the system's needs. The solar inverter weighs 28.3 pounds. It delivers a peak efficiency of 98%.
Fronius Symo Components
The Fronius inverter comprises six components:
Housing cover
Inverter
Wall bracket
Connection area incl. DC main switch
Data communication area
Data communication cover
The design and functionality of the inverter provide a maximum level of efficiency while guaranteeing safety during both installation and usage. Fronius also designs its inverters to operate with grid-tied PV systems.
The Working Principle of Fronius Symo Inverters
Suppose you're uncertain about how to choose a solar inverter for your solar system. In that case, you may want to consider the Fronius for its unique working principle.
The Fronius Symo inverter monitors the public grid automatically. Whenever there's inconsistency in the electric grid (for example, grid switch-off, interruption), the solar inverters will immediately interrupt the power supply into the grid.
How Grid Monitoring Works in the Fronius Symo
Grid monitoring utilises voltage monitoring, frequency monitoring, and monitoring islanding conditions. A real-time display of the grid's power output and stability feeds information to the inverter, automatically adjusting its operation to ensure this stability.
Fronius Symo Input Voltage
The inverter's input voltage range is 220 – 253 V. It's suitable for installation in tandem with existing electrical systems. The inverter monitors grid stability and facilitates up to 100% active power when it detects a fault in the service feed.
Load Factor Monitoring and Interruptions
The Fronius Symo monitors load factors by calculating active and reactive power over time, displaying instantaneous and historical graphic statistics such as power consumption curves and power data.
It swiftly handles short interruptions in its supply, effectively eliminating standby losses. When there is a significant problem, it displays an error code that you can use to receive technical solutions on the web interface.
Grid monitoring information is available on a control panel which includes a visual display. You should consult a qualified solar installer if you wish to do this.
Temperature Control
The Fronius inverter features an engineering marvel in its temperature control system. If the inverter temperature exceeds a specific value, the inverter derates automatically to ensure operator safety.
The cause for a high inverter temperature is often due to installation in a control cabinet without proper heat dissipation or in an area with a high ambient temperature.
Fronius Symo's Solar Inverter Key Features
It's Transformerless
The Fronius inverter has no transformer. The lack of a transformer reduces the inverter's weight and size, making installation a breeze.
Being transformerless also makes maintenance and repair work more convenient and affordable. The Fronius factory ensures that the inverter has no mechanical contact parts that require lubrication.
SnapINverter Technology
SnapINverter inverters are more manageable to install and service because their mounting system is separate from the power-stage component. This means that one part will be safely separate when installing or maintaining the other.
A unique feature in the device's design is that the area where the connections are made is separate from the part of the inverter that holds the power-stage components. Both are installed individually.
Wall bracket installation with innovative hinged technology is quite simple. The light connection area and cables are fitted to the wall first. Next, a power stage set is placed in the wall bracket.
Finally, an inverter is secured in place, and it isn't necessary to remove the entire inverter for servicing; instead, the power stage set can be changed. Again, this work can be done without removing any cabling from the wall.
Integrated Data Communication
Fronius is the first inverter manufacturer to enable data communication and web access. The inverter has built-in interfaces for energy management, network connections, and web access, among others.
The inverter also implements various communication protocols, including Modbus TCP, Modbus RTU, and Fronius Solar API (JSON). The open communication protocols can be used in parallel with existing equipment.
Superflex Design
The Fronius SuperFlex Design is a collection of technical performance attributes that allow you to design your photovoltaic system as simple and extraordinarily flexible. You can customise the system to any number of shapes and sizes to meet your specific needs.
SuperFlex is differentiated from the previous design by its two multi-phase power trackers that keep the system voltage high and by the voltage range of its DC inputs, which can accept the entire output of the inverter.
Despite varying roof orientations and shading, Fronius inverters are compatible with most PV system planning scenarios. The only restriction is using a single inverter model for every system.
Dynamic Peak Manager
Dynamic Peak Tracking is a new algorithm that dynamically checks every grid area instead of reviewing just a small portion of the characteristic curve. Unlike other MPP tracking algorithms, it automatically looks for the intersection of the characteristic curves and the global maximum power point (GMPP) if it exists, regardless of partial shading in any given area.
Smart Grid Ready
Fronius Stored Energy Smart Inverters are an ingenious design engineered to meet the challenges of the smart grid. They employ advanced Smart Grid features that enable optimal reactive power and sustainable power levels. A series of smart functions, known as Advanced Grid Features, such as DC string fusing, are built into the inverters for optimum performance.
The Fronius PV inverters provide functions that help to make the operation of an off-grid power system more stable and reliable. These features, such as the welding transformers, help ensure that even when the capacity of a PV system is very high, it will not suddenly interrupt the power fed into the grid.
Fronius PV inverters also feed energy into the grid in a controlled fashion to prevent overloading of the infrastructure it's connected to. You can even use Fronius inverters to self-consume power from your PV system to raise the revenue from selling excess energy back into the grid.
Zero Feed-In
The Fronius inverter supplies the household with energy first with dynamic power reduction. It then reduces the output to the maximum feed-in permitted by the grid operator.
And with Fronius inverters, zero feed-in is also possible, meaning that no PV power is supplied to the grid. You can alter this by simply enabling a setting on the inverter's web interface.
Active Cooling
Active cooling involves one or more fans. It prevents hot spots and regulates airflow inside the inverter, keeping the temperature low. This increases device service life and improves efficiency and profitability while delivering grid compatible AC electricity and external relay control. This active cooling system makes it one of the best inverters on the market.
Key Takeaway
The transformerless Fronius inverter features a wide input voltage range for its two MPP trackers ensuring design flexibility and control over excess power. The Fronius SnapINverter design is also the lightest and easiest to install.
The communication package included as standard, with WLAN, energy management, several interfaces, and much more, allows the Fronius Symo inverter to communicate with the user, the PV system, and the grid.
Customers generally predict a PV system to produce energy at a minimal maintenance cost for around 25-30 years. But the probability of that depends on the quality and reliability of the inverter.
Fronius Symo Quality and Reliability
Fronius is a prominent name in the inverter manufacturing sector with more than two decades of experience. The quality and reliability of an inverter system are decided based on several factors.
This section dives into the design, product testing, and other components that describe the quality and reliability of the Fronius solar systems.
Product Testing
Fronius Inverter product testing includes mechanical, thermal, and electrical simulations. Tests also cover specific inverter features, such as MPPT, DC input, DC power and grid feed.
The products were individually rated by the Department of Energy (DoE), the leading inverter testing and rating organisation.
Each product went through a rigorous type-test of 185 minutes. During that time, Fronius inverters maintained an average of 101% nominal voltage and did not disconnect. You can read the result of the type test here.
Product Failure Rate Overtime
Fronius Symo, like other Fronius products such as the Fronius Symo Hybrid inverter, Fronius string inverters, and the Fronius Primo inverters, is designed for 20 years of active energy production. Over time, the product's failure rate is the estimated number of times the inverter records a downtime within the intrinsic failure period.
Standard 7.5KVA Fronius Primo and Fronius Symo Hybrid inverters can remain productive for 16.7 years before reaching the deteriorating stage of their reliability lifecycle. With the Fronius Primo inverter, you can expect one significant downtime in 15-16 years by that metric.
Certificate and Compliance
The Fronius inverter is certified under several licenses. For example, the UL 1741-2010 and 1998 compliance show that the Symo inverter complies with safety standards and can sustain grid excursions and manage grid reliability functions.
Other certifications include the IEEE 1547-2003, UL1699B Issue 2 -2013, CSA TIL M-07 Issue 1 -2013, and lots more.
Fronius Inverter Efficiency
The Fronius inverter's efficiency rating is above 98%. This is above the general standard of 95% in most residential inverters.
What Makes Fronius Solar Inverters Unique?
It's Fully Automatic
Fronius knows its craft. The Fronius inverter is ready to use right out of the box. There is no need to configure it, as this is a fully-automated process. You can adjust settings to match preferences and requirements, but changing the default configuration is unnecessary.
Easy Installation
The Fronius inverter can be easily mounted to a wall with a thin section of wood away from direct sunlight. When you order your Fronius inverter, specify additionaL wood for mounting in the order form or consider string inverters.
By ordering your Fronius inverter with extra wood for mounting, you can easily mount it anywhere in the home. However, we recommend installing it at the height of no more than 2 meters.
Since the SnapINverter offers the possibility of mounting it in a space-saving manner, the SnapINverter is available for design calculations for small installations with lots of components.
In addition, the Fronius inverter comes with pre-installed cables for the inverter and AC combiner. You simply connect the precut cables to the inverter and combiner during installation.
The Fronius Power Package uses the same SnapINverter installation system already familiar to you, reducing installation time and errors.
According to the manufacturer, the Fronius Symo inverter can be installed in just 15 minutes.
Fronius Symo's easy installation means you can spend less time configuring the system and more time using it. As an added benefit, you'll be able to test your system and enjoy its benefits in no time.
Fronius Solar.Web App and Smart Meter
The Fronius Power Package features an open protocol, ModbusPlus, that allows the system energy to be monitored and managed by other external programs like data loggers, park regulators, or energy management systems.
Fronius's Solar.web software uses the Modbus system to connect to the Fronius solar inverter. This protocol allows Fronius to access the system remotely to provide the best possible technical support.
In addition, the parallel connection allows local third-party systems to work seamlessly with Fronius's Solar.web software. The Solar.web portal will enable you to monitor your system through a mobile app.
You can also install the Fronius smart meter to monitor your consumption.
Find out more about the smart meter in this guide.
Flexible Warranties from a Single Source 
Fronius Symo comes with four warranty categories:
Fronius Standard Warranty
The standard warranty extends the initial two-year warranty by an additional five years. All material costs, servicing, and transport are equally covered in the standard warranty.
Fronius Warranty Plus
The Fronius Warranty Plus extends the standard two-year warranty by three years, providing complete peace of mind with five years of coverage. In this period, all expenses incurred due to significant material failure and servicing are covered by the warranty.
Fronius Warranty Extension
This extension is designed so that system owners can protect themselves against risks. If a customer makes a claim, Fronius provides the relevant materials free of charge based on the solar industry standards.
Fronius Warranty Extension Plus
The Fronius Warranty Extension Plus protects you by covering you in the event of a claim. Fronius also covers the cost of removing and installing any replacement parts as well as the cost of transporting them to your door.
MPP Technology
The MPP (Maximum Power Point) technology is a unique component of how inverters work.
Historically, many energy systems were directly connected to the battery. The battery's voltage is partially returned in the form of power to the inverter (and not back to the panel). These changes resulted in enormous losses to solar panel efficiency and excess solar energy.
But MPP (Maximum Power Point) can find its peak in energy points despite shading attributed to low temperature, defective modules, or birds dropping leaves or branches. For example, a 3,000 mAh/W power module can obtain a maximum power point of 0.55 V @ 0.4 A for 12 volts, so about 11 watts. You can also have a single MPPT input.
Service & Warranty
Fronius inverters have a longstanding reputation for quality and reliability. They're far more likely to outlast other inverter brands and rarely fail.
Upon purchase, people can get a 2-year warranty on all Fronius inverters in some countries. The company provides a 5-year warranty in some other countries like Australia. They also offer a 10-month warranty online after the customer has registered their inverter.
Fronius provides excellent customer service. If any of its products exhibit issues, the company generally sends a replacement within 3-5 business days of receiving the broken product.
Suitable for Australian Consumers
Symo inverters are durable solar inverters for Australian conditions, with a Clean Energy Certification.
Fronius Australia ensures that all inverters comply with the standard industry practice, so they make ideal inverters for the Australian market.
The high-performance inverter is ideal for harsh conditions and caters perfectly to the Australian market. Installation is simple, and there are multiple modes for flexibility and ease of use.
Fronius combines an energy-efficient design with high safety features, making it one of the most valuable solar systems for any home or business in Australia.
No Need to Install a Cage
Most inverters are weighty. To prevent them from falling, you may need to install a cage.
If there are two or more inverters in a setup, there's always a risk of one unit coming loose. And if the inverter falls in the cage, it will invariably be damaged.
The Fronius Symo inverter doesn't require a cage because it uses no transformer and all components fit in a compact structure.
Therefore, users don't need to worry about the inverter or battery chargers falling with this feature. The inverter output, power generation, and DC electricity produced also remain the same.
Fronius Symo Limitations / Challenges
Noise
Many users report that the noise can seem noticeable and irritating when the inverter is located within an apartment or room, particularly during peak solar production times. As a result, t's best to install the inverter far from your living room or bedroom.
Cost
The Fronius Inverter may not meet your expectations if affordability is your primary goal. And despite its hefty price tag, the inverter's warranty period lags behind its competitors.
The Verdict
Fronius has an established position within the solar industry and produces high-quality new inverters and solar solutions with excellent backup power. The Fronius Symo Inverter is one of the best inverters in the industry, with superior power efficiency and a range of options.
The high system voltage, wide input voltage range, and dual MPP trackers ensure maximum flexibility in system design and make the job of solar installers easy. And, by AC coupling with a compatible battery, you can increase battery power. The PV point can also serve as a capable backup power.
The standard interface to the internet via WLAN or Ethernet and the ease of integration of third-party components make the Fronius one of the most communicative inverters in the solar inverter industry.
Next Steps…
Interested in solar? You can use our smart solar calculator to discover how much you could save with solar, what rebate you are eligible for, and the positive impact you will have on the environment – all in one simple click!
Don't wait until next quarter's bloated bill. Get started today!
Click here to calculate your solar savings!
Join over 20,000 homeowners who have happily made the switch to Instyle Solar. Need further proof? Check out the 1000+ positive reviewers who have been more than satisfied with their solar install.
You can also contact us on 1300 133 556 or email us at [email protected]