The Fronius Galvo is a single-phase, high-frequency transformer solar inverter with power ratings from 1.5 to 3.1 kW. It's compact, lightweight, and features an active cooling system. The inverter is also future-proof thanks to its plug-in card option and smart-grid features.
Inverters comprise 10 to 20% of the PV solar system. It's crucial to choose a solar inverter that is both highly efficient and can serve your future needs.
To that end, we've compiled this Fronius inverter review for you.
We'll examine Fronius Galvo solar inverters in the following areas:
Product overview
Technical evaluations
Qualities and reliability
Features
Unique aspects
Limitations
Let's dive in!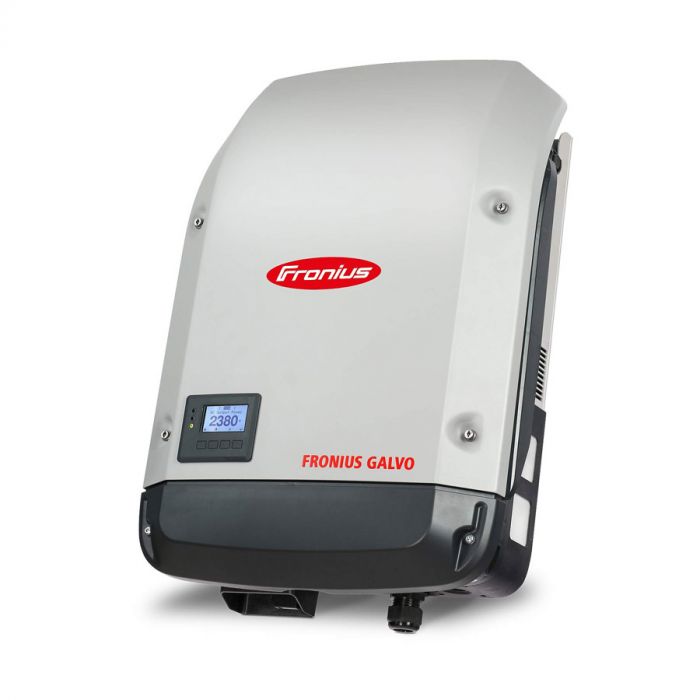 Fronius Galvo Overview
Fronius Galvo Inverters are single-phase string inverters with power ratings that range from 1.5kW to 3.1kW, making them perfect for household use.
With an integrated energy management relay, the inverters can maximise the self-consumption components. The inverters also utilise the 'old' transformer topology, ideal for old small-capacity solar systems.
Fronius solar inverters are manufactured in Austria, where the manufacturing standards are superior to those in South America or China. With years of experience under its belt, Fronius is well-regarded for its product range of high-performing inverters.
From a cost perspective, Fronius inverters are naturally pricier, given the logistical costs of shipping from Europe to Australia. The inverter price also doesn't include installation, so it's important to consult your installer.
Here's a quick rundown of Fronius Galvo inverter prices:
| | |
| --- | --- |
| Inverter | Cost |
| GALVO 1.5-1 | $1390 |
| GALVO 2.0-1 | $1420 |
| GALVO 2.5-1 | $1450 |
| GALVO 3.0-1 | $1480 |
| GALVO 3.1-1 | $1480 |
Fronius Galvo Technical Evaluation
The datasheet displays the output, input and general data of 1.5kW to 3.1kW inverters.
Inverters
GALVO 1.5-1
GALVO 2.0-1
GALVO 2.5-1
GALVO 3.0-1
GALVO 3.1-1
Input data
Number of MPP trackers
1
Max. input current
13.3 A
17.8 A
16.6 A
19.8 A
20.7A
Max. array short circuit current
20.0 A
26.8 A
24.8 A
29.6 A
31.0A
DC input voltage range
120 – 420 V
165 – 550 V
Feed-in start voltage
140 V
185V
Usable MPP voltage range
120 – 335 V
165 – 440 V
Number of DC connections
3
Max. PV generator output
3.0 kW peak
4.0 kW peak
5.0 kW peak
6.0 kW peak
6.2 kW peak
Output data
AC nominal output
1500W
2000W
2500W
3000W
3100W
Max output power
1500VA
2000VA
2500VA
3000VA
3100VA
AC output current
6.5A
8.7A
10.9A
13.0A
13.5A
Grid connection (voltage range)
1~NPE 230 V (+17% / -20%)
Frequency
(frequency range)
50 Hz / 60 Hz (45 – 65 Hz)
Total harmonic distortion
< 4 %
Power factor
0.85 – 1 ind. / cap.
General data
Max. efficiency
95.9 %
96.0 %
96.1 %
European efficiency (ηEU)
94.5 %
94.9 %
95.2 %
95.4 %
95.4 %
MPP adaptation efficiency
> 99.9 %
Dimensions
(height x width x depth)
645 x 431 x 204 mm
Weight
16.4 kg
16.8 kg
Degree of protection
IP 65
Protection class
1
Overvoltage category (DC / AC)
2/3
Night-time consumption
< 1 W
Inverter concept
HF transformer
Cooling
Regulated air cooling
Installation
Indoor and outdoor installation
Ambient temperature range
-25 – +50 °C
Permitted humidity
0 to 100 % MPP
Max. altitude
2,000 m / 3,500 m (unrestricted / restricted voltage range)
DC connection technology
3x DC+ and 3x DC- screw terminals 2.5 – 16 mm²
AC connection technology
3-pin AC screw terminals 2.5 – 16 mm²
Input Data
Number of Multiple PowerPoint Trackers (MPPTs)
All Fronius Galvo inverters contain one MPP tracker. These trackers follow Multiple PowerPoints (MPP) in all solar panels to prevent shading effects. MPPTs will find energy point peaks and utilise them for better efficiency even when facing overcast weather, leaves, and bird droppings.
An MPPT's function maximises energy levels from solar module arrays during operation. It extracts optimum power levels from the power modules. Put simply, the more MPPTs, the greater the power yield from the system.
Fronius Galvo is a small and straightforward single-phase string inverter. Hence, one MPPT is adequate for everyday use.
Max Input Current
The maximum input current is the highest current you can draw from the input voltage source to achieve total output.
Fronius Galvo inverters have a maximum input current that ranges from 13.3A to 30.1A.
DC Input Voltage Range
Fronius Galvo inverter DC input voltage ranges from 120 – 420 V for Galvo 1.5 and Galvo 2.0. The rest of the Galvo series possess a higher voltage range of 165-550 V.
The minimum DC input voltage is the voltage an inverter requires to receive the PV generator's Maximum Power Point (MPP).
The start input voltage is the lowest possible voltage needed for an inverter to start.
A low minimum DC input voltage and start input voltage number indicate that the inverter is energy-efficient.
On the other hand, the maximum DC input voltage range is the highest acceptable voltage of the solar PV inverter (on the DC side). It's vital not to exceed this number since you can damage the inverter by doing so.
The maximum input voltage value increases whenever the temperature drops. This determines the number of solar panels you can attach in sequence to the inverter.
Usable MPP Voltage Range
The MPP voltage range is the range that an inverter can increase power extraction from the PV system using the MPPT (Maximum Power Point Tracking) technique. Superior inverters have a high MPP operating range.
Fronius Galvo possesses an average MPP voltage range compared to their peers. While it's not the best voltage range on the market, it's versatile enough for multiple applicability.
Output Data
AC (Output) Nominal Power
Alternating Current (AC) is the output part of the solar power inverter. The AC nominal power is the specific output of the solar power inverters when they operate. The larger the AC nominal power, the better the inverter.
Fronius Galvo inverters have nominal power that ranges from 1500W to 3100W. Their best inverter is the Galvo 3.1, which boasts the highest nominal power.
Maximum Output Power
The maximum output power of Fronius Galvo inverters ranges from 1500 VA to 3100 VA. The output power has two parts:
Real power (known as the "usable part")
Reactive power (known as the "useless part")
The higher the maximum output power, the more efficient and expensive the inverter becomes. The maximum output power of Fronius is sufficient for households, but companies will want an inverter with more fuel in the tank.
AC Grid Frequency / Range
The AC grid frequency is typically 50Hz, but in America and its related zones, it's 60Hz. Fronius Galvo designs its inverters to accept both 50Hz and 60 Hz, making them suitable for all world markets.
Many frequencies can't function alongside each other without causing damage to equipment. As a result, it's crucial to maintain a consistent electrical frequency.
The AC frequency acceptable range is 44 and 65 Hz for all Fronius Galvo solar inverters. This range is extensive, meaning that the inverters are efficient with energy output.
Total Harmonic Distortion (THD, Harmonics)
Total Harmonic Distortion (THD) is the ratio of the total signal harmonics to the fundamental frequency power. It's a core component of solar systems that should be kept as low as possible.
A low THD in inverters results in lower peak currents, higher power factor, and better efficiency. All Fronius Galvo inverters have a low THD of <4%, making them highly efficient.
Power Factor
Power factor is a number between 0 and 1. It's the ratio of real power (remember the "usable part?") flowing to the output power to the circuit. A power factor of 1 means that only real power flows to the load.
Inverters with more recent designs typically range from -0.80 to 0.85 or higher. The best inverters have a power factor of 0.9 and above, but since Fronius Galvo uses an older transformer topology, 0.85 is considered a good power factor. 
General Data
Maximum Efficiency
The maximum efficiency of inverters can range from 95% to 98%. The capability of every inverter depends on the DC input voltage and power.
You get conversion efficiency by dividing output power with input power and multiplying the result by 100%. A higher conversion efficiency saves more energy and charges devices faster.
High-quality inverters generate a 90 to 95% maximum efficiency, while low-quality inverters lie somewhere between 75% to 85% efficiency. From this, we can judge that all Fronius Galvo inverters are high quality since their efficiency ranges from 95% to 96.1%.
Their European counterparts are also high, with 94.5% to 95.4 maximum efficiency.
MPP Adaptation Efficiency
MPP adaptation efficiency is <99.9%. MPPTs increase the maximum efficiency of Galvo inverters to 99.9%, resulting in better performance.
Dimensions and Weight
All Fronius Galvo inverters include a low-profile design with dimensions of 645(w) x 431(h) x 204(d) mm.
The inverters are also light, with a weight of 16.4 kgs for Galvo 1.5 & 2.0 and 16.8 kgs for Galvo (2.5, 3.0, 3.1).
Inverter Concept
The Fronius Galvo inverters are transformer-based inverters that use HP transformers. The transformer connects the voltage of the charging source and appliances. They also add the generated voltage to the amount required for appliance use.
Transformer inverters have electrical isolation between AC and DC circuits, which reduces the risk of power surges and electrical shocks.
Cooling
Fronius Galvo inverters employ active cooling technology to prevent components from overheating. Electric parts in inverters can be susceptible to high temperatures. As such, inverters require a cooling system to prevent overheating.
Active cooling technology predicts heat fields through the interior fans and removes warm air.
Installation
You can install Fronius inverters both outdoors and indoors. All they need is a flat wall to hang them inside a wall bracket with wiring.
It's essential to place Fronius inverters in a location no higher than 2 meters for accessibility. At the same time, you should avoid placing it under direct sunlight and get a weather cover if you intend to keep it outside.
You can always ask your installer for installation advice with that in mind.
Environmental Characteristics
All Fronius Galvo inverters are developed for outdoor installations. They have a temperature rating from -25° to 50°C and 0-100% relative humidity.
Their maximum altitude range is 2,000 m / 3,500 m (unrestricted / restricted voltage range).
Additional Features
Fronius Galvo is an excellent residential inverter with a power rating from 1.5kW to 3.1kW.
Let's look at other features Fronius Galvo inverters offer:
Zero Feed-in Capability
Zero feed-in means that your PV's power isn't sent directly to the grid. You can achieve this by setting the inverter's web interface to grid operator requirements.
Fronius offers an option for optimum feed-in management where the inverter supplies your household with energy and decreases system output to the grid.
You can reduce the power to the maximum energy feed-in permitted by grid operators.
Smart Meter
Fronius has a bidirectional meter (Smart Meter) that monitors the site's energy consumption. With Fronius Solar Web, the Smart Meter offers a clear overview of energy consumption. The Fronius Smart Meter is compatible with Fronius Galvo, Fronius Symo, Fronius Symo Hybrid, Fronius Eco and Fronius Primo inverters.
Plug-in Card Option
The plug-in card option is the Fronius Data Manager for future dataloggers. Once you connect the plug-in card to the internet through Wi-Fi, it sends your PV system details directly to the Solar.web online portal.
You can use it for an overview of how your system is functioning daily. The Data Manager is compatible with Fronius Galvo and all other Fronius inverters.
Smart Grid Ready
All Fronius Galvo inverters are smart grid ready. They include advanced communication features that allow your inverter to share data with your utility company. Your inverters can stay up-to-date with smart-grid technology through plug-in cards or software updates.
Smart grids require PV system data from the inverter to assist power organisations in assessing the grid's condition.
Fronius Galvo Qualities and Reliability
Fronius inverters have been tested to ensure quality and reliability for over twenty years.
Design Flexibility
Fronius inverters have a SuperFlex design that allows you to select a string inverter for any application. Fronius uses a similar design philosophy to help with setup and installation in all inverters. You can also design PV systems with low start-up voltages to high DC voltage allowed by the code.
Product Failure Rate Over Time
Fronius plans for its inverters to serve you for 20 years. The Mean Time Between Failures (MTBF) is a calculated reliability criterion when a product functions. Failure rate over time shows three phases of a product's life; early failure, intrinsic failure, and end-life wear out.
MTBF is the failure rate during the intrinsic failures period and can't accurately predict the exact wear-out period. Products with high MTBF will wear out fast and vice versa.
Product Testing
Fronius goes through a rigorous series of tests before introducing products to the market. The inverters must withstand humidity, ice salt, extreme temperatures, vibration, and impacts before delivery to the customer.
For instance, endurance tests of the cooling system are monitored under various conditions using an infrared camera. Accelerated test procedures also indicate if products can run for more than 20 years.
What Makes Fronius Galvo Unique?
Fronius is renowned for its reliable and superbly-crafted products for residential and commercial users. The pros of Fronius Galvo inverters are:
Active Cooling System
Excess heating slows down performance over time. That's why Fronius inverters have an active cooling system that makes inverters maintain efficiency when there is excess heating. However, the inverter can become quite noisy once the fans start running.
Built-in WIFI
A built-in WIFI makes access from any smartphone effortless using the solar web smart app. Fronius smart meter helps you monitor regular self-consumption and the amount of electricity generated.
You can download the Solar Start application on your Android or iPhone. The application will take you through the setup in just a few minutes. The Solar Start app also connects automatically to the inverter, enabling a full warranty and the Solar Web tool set-up.
Solar Web tool helps you monitor your inverter's power consumption, efficiency, or other system data. The portal is easily accessible from computers and phones, where you can receive alerts and run simulations. You can also access power, PV systems, total production, and earnings data.
Unique Snap-in Design
Fronius Galvo inverters include a unique snap-in design that functions efficiently without detaching from the wall.
Long Warranty
Fronius inverters come with a five-year warranty plus another five-year warranty if you register at Solar.web for free. If any problems arise with the warranty, Fronius customer service advises you to schedule a meeting with an installer to investigate the situation. The installer then informs the Fronius team and works with them to resolve the issue. Keep in mind that installer fees aren't included in the warranty.
Fronius Galvo Limitations
Noisier Compared to Other Inverters
Fronius Galvo inverters use active cooling, where fans cool their systems, unlike most inverters which use a heat sink to cool the components.
Active cooling technology is more complex than the heat sink method but more reliable for performance. However, the process runs slightly louder than other inverters, especially during optimum solar production when the fans start to run.
Final Verdict
Fronius Galvo inverter is a premium solar inverter with high efficiency due to its maximum power point tracking.
However, it loses some points due to the noise from the active cooling technique using fans to cool the system. It's therefore essential to install the inverter far away from the bedroom or any living space to avoid the irritating noise.
With Fronius Galvo, you're guaranteed quality, reliability, lower surge risks, built-in WIFI, and an extended warranty. The price tag can be intimidating for some, but their industry reputation proves that the inverters are worthwhile investments.
Next Steps…
Interested in solar? You can use our smart solar calculator to discover how much you could save with solar, what rebate you are eligible for, and the positive impact you will have on the environment – all in one simple click!
Don't wait until next quarter's bloated bill. Get started today!
Click here to calculate your solar savings!
Join over 20,000 homeowners who have happily made the switch to Instyle Solar. Need further proof? Check out the 1000+ positive reviewers who have been more than satisfied with their solar install.
You can also contact us on 1300 133 556 or email us at [email protected]