The solar industry is booming rapidly, and many companies specialise in designing, manufacturing, and selling solar products.
But when solar products require so much investment, which company should you trust?
We have an answer.
Risen Energy is a public company located in China that has been manufacturing and selling solar products since 1986. The company is well-known for its top-notch products and experience in the industry.
Want to know more about Risen Energy and why you should get its products? This post is just for you.
Read on to know more about Risen Energy and its solar products.
Who is Risen Energy?
Founded back in 1986, Risen Energy Co. Ltd is a Chinese public company that produces solar panels and is known for being an R&D expert. The company manufactures a wide range of solar products, ranging from wafers to off-grid systems.
Risen Energy has offices in different countries across the world, including China, Australia, Germany, India, Mexico, Japan, the USA, and many others.
Currently, Risen owns around 45 key business core technologies. It has established a photovoltaic laboratory on the national level, which has already received a CNAS certification. The laboratory has the capacity to conduct 54 project tests and provide support in the development, design, and quality control of photovoltaic enterprises.
Where are Risen products made?
The company develops and manufactures its products primarily in China. But its offices located in other countries also support the development of its high-tech products.
Risen Energy's products have acquired various international certifications. It has passed the ISO14001 environmental management system, GB / T28000 occupational safety and health management system certification, and ISO9001 quality management system.
Some of the well-known certifications it has passed include PAHS, ROHS, GS, CE, TÜV, and REACH.
Are Risen products any good?
Risen Energy's products are known for being top-notch. Their solar panels come with a 14-year product warranty compared to the 10 years warranty many manufacturers offer.
Risen Products have won many awards and certificates in the past. The company won the gold award for the photovoltaic industry in 2015 during the 9th China Brand Festival. In 2017, it won 6th position among China's top 10 photovoltaic module companies.
This recognition and appreciation over the years is a testament that Risen products are top-notch and worthy of investment.
Are Risen solar panels Tier 1?
Risen Solar Products are listed as Tier 1 according to various sources. In 2020, Risen Energy was listed in the top ten list of solar panel manufacturers for GlobalData.
A Tier 1 title with a solar panel suggests that the product was made by a manufacturer rated Tier 1 by a well-known and trusted independent PV industry analyst. In other words, Tier 1 is the best and highest tier that a solar panel can get.
The scoring is done after analysing various elements of the products, manufacturer, and the company, such as experience and production quality.
In this way, Risen solar products are a great choice if you're looking for a good return on your investment.
What Products do Risen Energy Manufacture?
Risen Energy is most known for producing high quality, yet conservatively priced monocrystalline solar panels, in fact, they have over 9 unique panel types. However, they have also branched out to create a residential and commercial energy storage solution, as well as an innovative 'HJT' solar module, which boasts higher than average efficiency ratings. Here is a breakdown of all their products and what they are best used for.
Risen's Energy Storage Solutions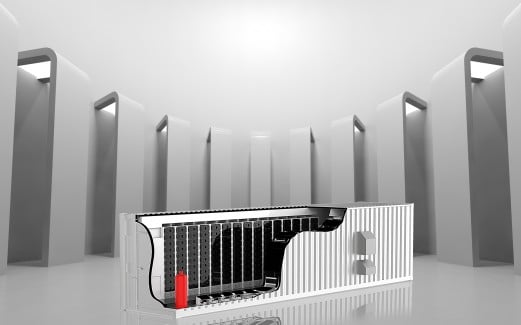 Risens Energy Storage Solutions for Business
Risen Energy designs and manufacturers energy storage solutions for utility, industrial, and commercial purposes. The capacity of these products ranges from 500KWh to 3MWh, with the duration lasting from 15 minutes to more than 4 hours per day.
Independent tests have shown that the efficiency of this system is around 88%. The response is quite fast as well.
Risen Energy has designed the products so that the product does not take up a lot of space. Manufactured using high-quality materials, the product comes with a stable cell structure, ensuring a high safety level.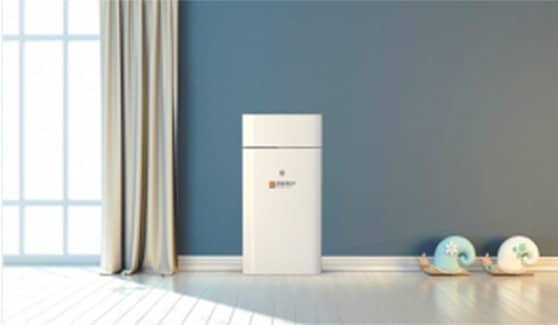 Home Battery Back-up For Residential Solar
Solar panels produce energy during the daytime only, so it is important to have backup power for the night. This is why Risen Energy provides residential power backup products as well.
The capacity of these products ranges from 4.5 to 22.5 kWh. The products also come with a standard warranty of 5 years and a performance warranty of 10 years.
Accordingly, Risen's power backup products are quite reliable, with the hardware having industrial-grade components and guaranteed performance for 10 years. The server in the product is also quite a component with a disaster recovery strategy incorporated in its system.
The product is also flexible and expandable. Most importantly, the residential energy storage system comes with an online monitoring system, allowing clients to monitor their solar systems.
You can monitor the system network easily from your mobile, get accurate data, and analyse how your solar system is performing. It will help you determine how to consume the power better to realise more savings.
Risen's Solar Panel Products
Monocrystalline Panels

Monocrystalline solar modules are constructed using small solar cells with a highly complex manufacturing process. Since they are extremely fragile, it is important to have a good warranty on such products.
Risen Power has the technology to produce the most efficient and reliable solar panels. Each one of them comes with a good lifespan, high performance, and efficiency, making them a good investment.
There are different types of modules available at the company with different efficiencies. The products are usually made up of low current density technology to reduce the consumption of power internally.
The company also uses HC and MBB technology to decrease the negative affection to yield that occurs because of shadows and microcracks.
Risen's Monofacial Solar Panels
Monofacial panels have cells facing the direct sunlight only, and so can sometimes have lower efficiency, but are usually a cheaper option.
Titan 132 High Performance Monocrystalline Perc Module
This is Risen's 132 Cell monocrystalline module which boasts an impressive 21.6% efficiency.
Titan 110 High Performance Monocrystalline Perc Module
The Titan 110 is a lower cell count panel with a 21% efficiency rating.
Titan 120 High Performance Monocrystalline Perc Module
This mid range panel has an efficiency of 21.2% and 120 cells.
Titan 40 Monocrystalline Perc Module
The Titan 40 range is a lower output panel but comes in various looks.
Titan 40 Monocrystalline Perc Black Module
This slick all-black panel is great for aesthetic friendly installations.
Titan 40 Monocrystalline Perc Module (Black Frame)
The black frame panel sports a standard cell configuation with a sleek black frame.
Risen's BiFacial Solar Panels
Bifacial solar panels have cells one both sides of the panel. The first cell gets direct sunlight while the backing cell captures the sunlight reflected from a reflective backing on the panel, essentially it tries to capture the 'leftovers'
Titan 132 High Performance Bifacial Perc Monocrystalline Module
The Titan 132 is a top line module in both monofacial and bifacial systems.
Titan 110 High Performance Bifacial Monocrystalline Perc Module
The 110 cell panel is similar ot the monofacial module with lower efficiency and output.
Titan 120 High Performance Bifacial Monocrystalline Perc Module
This is Risen's mid range bifacial module with a 21.2% efficiency.
You can learn more about how solar panels work in the shade in this detailed guide.
The HJT Module – Sieger 120 Solar Panel
Heterojunction technology (HJT) has become popular in recent years because it allows a solar panel to harvest more energy. Following the need and demand of HJT, Risen Energy also produces HJT modules to increase the power output and efficiency of the solar system.
The HJT at Risen Energy is a junction between the qualities of crystalline silicon together with the amorphous silicon. Accordingly, the company produces a top-notch hybrid cell that surpasses all the technology available in the solar industry.
Power Output: 335-355Wp
System Voltage: 1500VDCI
Panel Efficiency: 21.0%
Dimensions: 1691×998×30mm
Where to buy Risen products?
If you want to buy good-quality products, you also need to work with trusted solar products providers. Instyle Solar provides high-quality residential and commercial solar systems outsourced directly from Risen Energy.
We have ample experience in the industry, knowing what our customers want and the kind of products that can help them. We are on a mission to make Aussie homeowners get rid of high electricity bills and power outages. This is why we work with companies like Risen Energy to bring our customers good-quality and affordable solar products.
Our Guides to Solar Panels and More
We have a series of unique guides to solar, solar finance, batteries and more, if you are looking to do more in-depth research into solar panels check the below:
1. What Are Solar Panels? How Do Solar Panels Work?
To explain this in simple terms, solar panels generate current when sunlight knocks electrons out of the atoms. This current then powers the entire house. Read on for a more in-depth analysis.
2. What Does PV Mean?
The term photovoltaic (PV) was first used in 1890. The term derives from the Greek terms photo, 'phos,' which means light, and volt, which means electricity.
3. What Solar Panels Do I Get? How Many Do I Need?
You might also be wondering what is the ideal number of solar panels for your home, and the answer depends on several factors.
4. How Do You Choose Good Solar Panels?
Are you looking for good solar panels for your home? If so, ensure that you choose the right solar panel for optimum efficiency.
Next Steps…
Interested in solar? By clicking below, you can use our smart solar calculator to find out just how much you could save with solar, what rebate you are eligible for, and the impact you will have on the environment.
Don't wait until next quarter's bloated bill, and get started today!
Click here to calculate your solar savings!
Join over 20,000 homeowners who have made the switch with Instyle Solar or the 1000+ positive reviewers who have been more than happy with their solar install.
Otherwise, you can always contact us on 1300 133 556 or email if you prefer at [email protected].