Huawei is a Chinese company that provides information and communication technology, smart devices, and solar products. The company offers inverters that are battery-ready, cost-effective, and efficient. It also offers Smart Energy Storage System SUN2000-450W-P optimisers and the FusionSolarApp.
Huawei is mainly known for its telecommunication devices, but it also produces solar products.
If you're interested in learning whether Huawei is an excellent solar brand, this article is for you.
This article will help you learn what Huawei is and whether it's a good brand. You will also know about different Huawei products and where to buy them.
Let's dive in!
Who is Huawei?
Huawei is a Chinese company founded in 1987 that provides information and communication technology smart devices globally. The company's headquarters are in Shenzhen, Guangdong, but it has a presence in over 170 countries with over 180,000 workers.
Huawei also manufactures solar products. The company is the largest manufacturer of inverters worldwide, but they are more concentrated on telecommunication devices.
Huawei started manufacturing an efficient and lightweight residential solar inverter in 2018. In 2020, they started selling 2nd generation residential hybrid inverters, a compact optimiser and different types of 3-phase inverters.
FusionSolar Huawei products focus on energy management systems and smart inverters. FusionSolar covers industrial, commercial, residential and utility-scale projects. The Smart Energy Controllers are created from single-phase and 3-phase installation.
Let's look at Huawei's FusionSolar system
Fusion Solar is Huawei's energy management system which aims for one size fits all management purposes. The management system is a cloud-based monitoring portal with many monitoring and data logging features and an easy to read interface.
You can use the Fusion Home mobile app for direct connection and monitoring via Local WIFI and inverter setup. The monitoring portal is easy to read and understand with a modern user interface.
The Fusion Home is for the Sun2000L inverter that comes in different kW sizes(2.0, 3.0. 4.0, 4.6 and 5.0). It has an integrated energy storage interface where an inverter doesn't need batteries to function, which is a great feature.
Where are Huawei solar products made?
Huawei is a Chinese based organisation, and most of its solar products are manufactured in China.
Is Huawei a good brand?
The Huawei Company is a good brand with next-gen inverters that offer many advanced features. These inverters make life easier and more convenient, but they also have drawbacks.
Benefits of Huawei inverters
Cost-effective: Huawei solar products have become popular in Australia due to their affordability.
Battery-ready: Huawei inverters are battery ready, and they have an interface that you can use with LG Chem RESUH battery. The built-in battery offers optimum performance.
Efficient: The Huawei inverter is 99% effective or even more than other inverters.
5-year warranty: Huawei offers a warranty that allows you to replace the solar products within five years completely, plus another 5-year warranty that can be bought. The warranty means that you can replace parts or inverters for free, but you will cater to labour charges.
Cons of Huawei inverters
Huawei's manuals say that their inverters should be installed 500m away from the coastline (salty areas). Most Australian buildings are within the 500m mark from the coastline; hence most people can't use the Huawei services. It will be hard to claim your warranty if you install the inverters within 500m from the coastline.
Which inverter is better: Fronius or Huawei?
Huawei is better than Fronius overall. However, Fronius is better if you have frequent grid failures.
To determine which inverter is better between Fronius and Huawei, you have to look at the following factors:
Reliability: Huawei solar inverter is battery ready and has low limitations making it better than Fronius.
Hybrid battery: Huawei wins due to its single and three-phase inverters with their own battery (5kWh- 30kWh). However, if you have frequent grid failures, Fronius GEN24Plus has superior backup than other inverters.
Perth heat management: Fronius inverters have efficient fans, but many complain that they are noisy. Huawei inverters don't have fans, but their cooling system works efficiently (internal temperatures don't go beyond 67°C. Both inverters are great in Perth heat management.
Power output: Fronius GEN24+ allows 7.5Kw to 9kW with a battery. However, Huawei 3-phase 5Kw allows 20Kw of panels while single-phase 5Kw inverters allow 10kW of panels. Huawei has more power output.
Shaded panels management: Huawei inverters have an optimiser that manipulates panel voltage to match current with the rest of the string. Fronius don't have in-built optimisers; hence Huawei wins.
Reporting software: Even without optimisers, Huawei still gives comprehensive reports. Still, Huawei offers a complete reporting package with smart meters and optimisers.
Huawei Solar Products
Huawei offers FusionSolar residential products, single and three-phase products.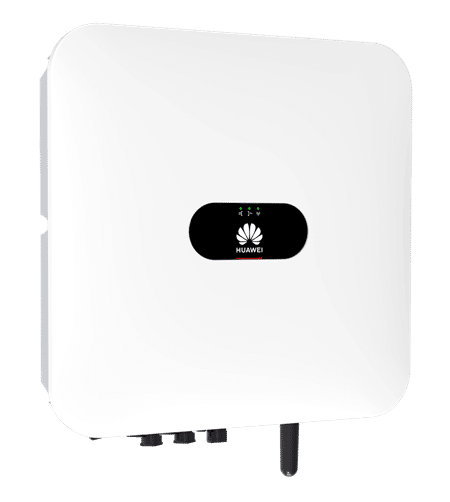 1. Single-phase string inverter – Huawei Sun2000 KTL L1
The single-phase Huawei Sun2000 KTL L1 Inverter comes with a Smart Energy Controller and the following features
AI-powered arcing protection
Compatibility with SUN2000-450W-P optimiser
Battery ready
A 5KTL inverter that allows 5KW full power AC output and 5KW full power battery charge
Optional Smart Dongle-WLAN-FE or Smart Dongle-4G communication.
SUN2000-2/3/3.68/4/4.6/5/6KTL-L1 classes with 2 MPPT inputs
Battery compatibility: LG Chem RESU 7H and LG Chem RESU 10H (SUN2000-L1 is compatible with Huawei LIFEPO4 battery)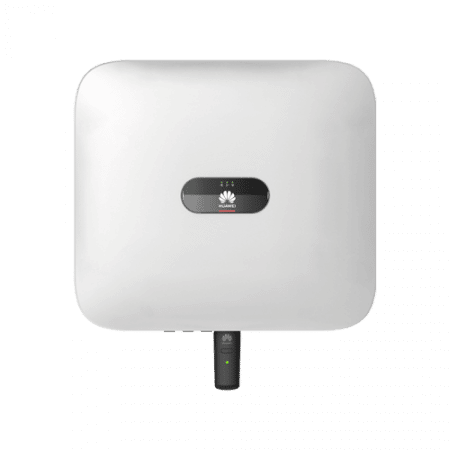 2. Three-phase string inverter
Huawei produces two different three-phase inverters, including the Sun2000-KTL-M1 and the Sun2000-KTL-MO.
The two three-phase string inverters come with the following features;
AI-powered arcing protection
Compatibility with SUN2000-450W-P optimiser
Battery-ready
A 10KTL inverter allows 10KW full power AC output plus 10KW full power battery charge.
SUN2000-3/4/5/6/8/10KTL-M1 classes with 2 MPPT inputs
Battery compatibility: Huawei battery, LG Chem RESU 7H, and LG Chem RESU 10H
3. Smart Energy Storage System
The Huawei inverters has a 'high voltage' DC coupling battery interface compatible with LG RESU-H batteries and the Huawei LUNA2000 battery system. The LG batteries are high quality and cost-effective solutions with 9.3 kWh of usable storage capacity.
The LUNA2000 battery system has the following features:
Lithium modules (high voltage) with 100% DOD
5kWh to 30kWh per module
Power output of 2.5Kw to 3.5Kw per module
Internal cell short circuit diagnoses that are AI-powered to prevent fire hazards
Can detect overheating with its cell-level temperature control
Internal heating system for cold seasons
10-year warranty
Cost of Huawei LUNA 2000: $780
4. The SUN2000-450W-P optimisers
Huawei SUN2000L1 inverters are compatible with the next to get powerful SUN200-450W-P optimisers. The optimisers have a maximum input current of 13A and a maximum power rating of 450W. They also feature a wide voltage range from 8V to 80V.
The optimisers help with fault detection and panel-level monitoring.
Additionally, they help overcome solar performance problems such as:
Shading from building, trees, poles, wires
Temperature difference
Panel mismatch
Panel damage such as hot spots, water ingress or micro-cracking
Soiling from dust, bird droppings or snow
Current and voltage leakage problems
SUN2000-450W-P optimisers features:
Increase roof space; hence shading in winter becomes a minor issue
Enable you to upgrade old systems due to the different panels on one string
Allow you to install parallel strings of different lengths
Troubleshoot through monitoring portal
When the inverter is off, there is zero string voltage.
5. FusionSolar app
With the FusionSolar app, you can see solar performance and access all procedures.
The Smart PV Management System offers the following with its FusionSolar application:
Real-time energy flow and energy balance readings
PV panel -level performance management
Demo site for all guests to experience system capabilities
Control Mode setting options such as maximum self-consumption exporting to the grid.
Online Smart IV Curve Diagnosis
Conclusion
Huawei is a Chinese company founded in 1987 that provides information and communication technology smart devices globally. Huawei also manufactures solar products such as inverters, optimisers, etc. Huawei inverters are battery ready, cost-effective and have a five-year warranty. However, they can't be installed 500m from the coastline, where most Australian residents stay.
Check Out Our Guides to Solar Inverters
We have a series of unique guides to solar, solar finance, batteries and more, if you are looking to do more in-depth research into solar inverters check the below:
1. What Are Solar Inverters? How Do They Work?
The solar inverter is a very important part of your solar power system: photovoltaic panels generate direct current (DC) when they receive sunlight, but your home appliances run with alternating current (AC) like that from the grid. In simple terms, the solar inverter is the device in charge of converting DC power to AC.
2. How To Choose A Solar Inverter
There has never been a better time to switch to solar in Australia. Some households can even switch for $0. As the focus grows on solar energy, so does the list of available equipment. The solar inverter is like the heart of a solar system, and there are a number of considerations that go into choosing a suitable solar inverter.
3. Single-Phase vs Three-Phase Inverters: What Are They And Which One Do You Need?
Here is a common rule of thumb to help differentiate between single-phase vs three-phase inverters. Residential homes will usually use a single-phase power supply or inverter, while commercial or industrial facilities will use three-phase supplies.
4. What Do Solar Inverter Error Codes Mean
Solar inverter error codes notify you of a situation threatening the normal operation of your solar power system. Many different things can go wrong and disrupt electricity generation from a solar PV system. The inverter will detect it and generate corresponding error codes to notify you.
Next Steps…
Do you want to install solar? By clicking below, you can use our smart solar calculator to see how much solar you will save through solar. You will also see how eligible you are for government incentives in Australia.
Click here to calculate your solar savings!
Join over 20,000 homeowners who have made the switch with Instyle Solar or the 1000+ positive reviewers who have been more than happy with their solar install.
Otherwise, you can always contact us on 1300 133 556 or email if you prefer at sales@instylesolar.com.au.