Fronius was established as an electrical "repair shop" in 1945 and only entered the PV business in 1992, but it has grown to be an expert in the solar energy world. Today, it produces some of the best solar inverters (such as the Fronius Symo) and PV monitoring systems in the market.
When considering going solar, it is easy to be overwhelmed.
You'll hear of solar modules, solar inverters, solar batteries, solar monitoring systems, and other solar terminology that are somehow an important component of your PV system. You'll also hear of different brands that manufacture these products, with each of these brands advertising their product as superior in one way or the other.
But we all know that the key to having a valuable system is purchasing from a brand that is reputable both in quality and service.
For this reason, we bring you Fronius, which is arguably Australia's #1 solar brand.
This article will tell you more about this leading solar brand.
We'll also give you an overview of some of the best Fronius products.
Let's dive in.
What does Fronius do?
Fronius is a renowned company in the current solar world that Gunther Fronius started in Austria in 1945.
When the company started, it was an electrical repair shop focused on battery charging systems. With time, Fronius expanded into welding technology. It was only in 1992 that Fronius expanded its business to include photovoltaics.
So, Fronius has three business areas.
Welding technology. They offer solutions for manual gas shielded arc welding, MIG/ MAG, TIG, and MMA welding. It provides welding technology for robot applications as well as welding automation.
Battery Charging technology. Fronius provides solutions for the entire charging infrastructure for charging starter batteries in workshops or traction batteries in intralogistics forklift trucks.
Solar Energy. Fronius provides photovoltaic systems that generate electricity and batteries to store the electricity for later use. They also provide PV hot water systems and solar EV charging systems.
There's been a recent push for renewable energy solutions, especially solar power systems. So, it's unsurprising that despite being Fronius' youngest business, solar energy has made the company popular in recent times.
After producing its first inverter (the Fronius Sunrise) in 1995, the company has become one of the best producers of string inverters. The company has also developed excellent solar monitoring systems and other solar solutions to become a comprehensive expert in solar energy.
Where are Fronius products made?
All Fronius products are designed and manufactured in Europe, specifically in Austria.
So Fronius products are not below-par products put together with cheap labour in some off-the-mill factory. Rather, they are manufactured to exact European standards. They all come with relevant certificates.
Is Fronius a good brand?
Fronius is a recipient of numerous prestigious industry awards recognising their products' technological superiority, functionality and reliability. So, Fronius is not just a good solar brand; some will even argue that it's the very best.
For example, Fronius made headlines in 2020 when it received the Smarter E and Intersolar awards.
The Smarter E award is the world's leading conference series for intelligent, sustainable, and cost-effective energy supply technologies.
Fronius won the award in the "Smart Renewable Energy" category with the Fronius Solhub – an innovative system for generating, using, and storing green hydrogen from solar energy.
The Intersolar award honours technological innovations and groundbreaking solutions in photovoltaics.
Fronius won the award with its Symo Gen24 Plus inverter. The inverter has impressive features (many of which are present in other Fronius inverters).
These include:
An innovative mounting system that makes for easy installation and commissioning
An innovative active cooling system
BYD high-voltage storage
High system efficiency
Let's explore more products made by Fronius.
What Inverters Does Fronius Sell
Fronius offers a range of products for effective commissioning and monitoring PV systems on the solar energy front. These include solar inverters and hardware for monitoring the performance of PV systems.
Fronius Primo
The Fronius Primo is a single-phase transformerless inverter perfect for private households. The Primo has power categories ranging from 3.0 – 8.2 kW.
It features a snap-in design. In this innovative design, installation is simple because the inverter is simply placed in a wall bracket and secured in place. Servicing is also very simple because the connection area is separate from the power stage area. So, you only remove the power stage set for servicing, not the whole inverter.
The Primo also features the SuperFlex design, making designing your PV system simple. With two MPP trackers, a high system voltage, and wide DC input voltage range, the inverter will satisfy every PV system planning scenario.
The Primo is also an outstanding communicative inverter. It comes standard with WLAN. The inverter also comes with active cooling, using fans to regulate air circulation.
Fronius Symo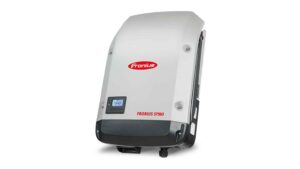 Fronius Symo is a three-phase inverter. It has power categories ranging from 3.0 – 20.0 kW, suitable for residential and commercial applications.
Also, being one of Fronius' "snapINverter", the Symo inverters have a standardised mounting service that makes installation and servicing easy.
These inverters also have SuperFlex ensuring that they'll serve you even with irregularly shaped or different roof orientations.
Fronius Symo comes with a WLAN and ethernet connection as standard and connects with third-party devices for system monitoring. It also provides a clear visualisation of consumption.
Fronius Symo Hybrid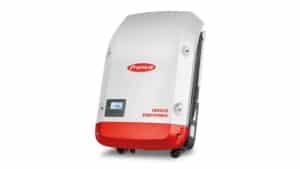 The Symo Hybrid inverter brings together a battery charging system, a battery inverter, a hybrid inverter, a controller, and a solution for monitoring the system.
With AC power categories ranging from 3kW to 5kW, the Symo Hybrid supplies households with energy from a PV system and store the excess energy in a battery.
The Symo Hybrid features the exciting Multi-Flow technology that allows AC and DC energy to flow in parallel. For example, energy can flow from the modules to the battery and the in-house network simultaneously. Also, energy can flow to the in-house network from the modules and the battery simultaneously.
The Symo Hybrid can be charged from either the AC or DC side, making it suitable for AC coupled retrofitting. This Fronius inverter comes with integrated data communication. You can connect it to the internet using a WLAN or ethernet cable for an overview of the system's performance.
Fronius Eco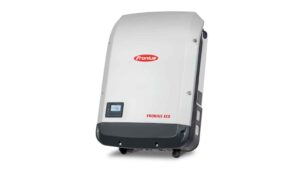 Fronius Eco is a three-phase inverter. With power categories ranging from 25kW to 27kW, Eco is suitable for large-scale installations.
The Eco also comes with the novel snap-in inverter mounting, making installation and maintenance very easy.
Like the Primo and Symo, the Fronius Eco features integrated data communication.
With this inverter, string collection boxes are no longer required. It has IP 66 protection, all-pole string fuse holders, and optional DC fuses.
Fronius Smart Meter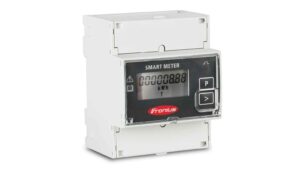 The Fronius Smart Meter is a bidirectional meter for recording power consumption.
This smart meter measures how much electricity your PV system produces, how it is used in the household, and how much excess electricity is sent back to the grid.
When the Fronius Smart Meter is paired with Fronius Solar.web, you'll have a clear overview of consumption in easy-to-follow graphs and charts.
With your consumption information, you can make smart changes to limit consumption and increase your energy savings.
Where to Buy Fronius Products
You can buy Fronius products from the Fronius Australia office or one of the Fronius service partners in the country.
Interestingly, the Australian office is not just a sales shop. The office also offers customer service and technical assistance.
The Australian Fronius office is at Lambec Drive, Tullamarine VIC 3043, Australia.
For contact information, use the following:
Fronius also has service partners authorised to work on Fronius inverters. These partners are usually solar retailers or installation companies.
Instyle Solar is one of such responsible solar retailers. We're committed to helping Australian homeowners go solar.
We partner with many reputable companies in the solar world to find quality products that bring the greatest value to Aussies.
So, you can get quality, reliable Fronius inverters and solar monitoring systems through Instyle Solar.
Check Out Our Guides to Solar Inverters
We have a series of unique guides to solar, solar finance, batteries and more, if you are looking to do more in-depth research into solar inverters check the below:
1. What Are Solar Inverters? How Do They Work?
The solar inverter is a very important part of your solar power system: photovoltaic panels generate direct current (DC) when they receive sunlight, but your home appliances run with alternating current (AC) like that from the grid. In simple terms, the solar inverter is the device in charge of converting DC power to AC.
2. How To Choose A Solar Inverter
There has never been a better time to switch to solar in Australia. Some households can even switch for $0. As the focus grows on solar energy, so does the list of available equipment. The solar inverter is like the heart of a solar system, and there are a number of considerations that go into choosing a suitable solar inverter.
3. Single-Phase vs Three-Phase Inverters: What Are They And Which One Do You Need?
Here is a common rule of thumb to help differentiate between single-phase vs three-phase inverters. Residential homes will usually use a single-phase power supply or inverter, while commercial or industrial facilities will use three-phase supplies.
4. What Do Solar Inverter Error Codes Mean
Solar inverter error codes notify you of a situation threatening the normal operation of your solar power system. Many different things can go wrong and disrupt electricity generation from a solar PV system. The inverter will detect it and generate corresponding error codes to notify you.
Next Steps…
Interested in solar? By clicking below you can use our smart solar calculator to find out just how much you could save with solar, what rebate you are eligible for, and the impact you will have on the environment.
Don't wait until next quarter's bloated bill, and get started today!
Click here to calculate your solar savings!
Join over 20,000 homeowners who have made the switch with Instyle Solar, or the 1000+ positive reviewers who have been more than happy with their solar install. Otherwise, you can always contact us on 1300 133 556, or email if you prefer at [email protected].